Indian Wells 2012: Men's preview
848 //
07 Mar 2012, 16:57 IST
Indian Wells was supposed to take off from exactly where the Australian Open ended: with Novak Djokovic and Rafael Nadal dueling at the top, and the rest of the tour a mere afterthought. But in a shocking turn of events, February and the rest of the tour haven't proven to be completely irrelevant. Roger Federer, Andy Murray, David Ferrer and Juan Martin del Potro have all made strong statements of their own. If anything, Rafa and Nole, or 'Rafole', have been notably quiet, with one being handed his first loss of the year and the other having seemingly fallen off the face of the earth. Is this Rafole's way of lulling the rest of the tour into a false sense of security? We'll see whether that tactic works at the first Masters' event of the year.
First Quarter: Business as usual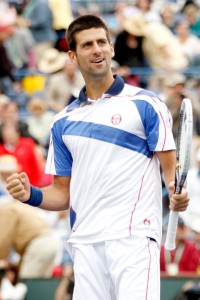 Djokovic is drawn to face the towering Kevin Anderson, he of the gargantuan serve and a title victory in Delray Beach last week, in the 3rd round. But these kinds of matches were tricky for Djokovic only in the pre-2011 era (Anderson had defeated Djokovic at Miami in 2008). Armed as he is now with that unerringly lethal return of serve, the World No.1 should have little trouble taking care of business against Anderson. And frankly, unless Djokovic suffers a dramatic bout of the yips worse than those that frequently afflicted Dinara Safina, he shouldn't have much trouble trouble against Richard Gasquet, Nicolas Almagro (or Kei Nishikori) and Tomas Berdych, his likely opponents up to the quarterfinal stage, either. Sure, Djokovic played in dispiriting fashion on his way to a rare lopsided loss against Murray at Dubai, but unless proven otherwise, Djokovic is still head and shoulders above the second tier of men's tennis.
Random observation: Andy Roddick is still seeded?
Prediction: Djokovic def. Berdych
Dark horse: Kei Nishikori
Second Quarter: Opportunity, opportunity
Stop the presses: Andy Murray hasn't gone into his customary post-Australia swoon! The Scot actually did a fine job in his first tournament after losing at the Australian Open, something that he had spectacularly failed to do in 2010 and 2011. His runner-up performance in the high-profile Dubai tournament was impressive, specially since it involved taking down Djokovic in the process. While the Serb may have been far from his best at Dubai, coughing up unforced errors by the dozen, credit Murray for refusing to take his foot off the pedal and sticking with his attacking game-plan right till the end. The Scot has now won 2 out of his last 3 matches against Djokovic; with a statistic like that, it probably doesn't even matter that Murray lost the Dubai final to Federer.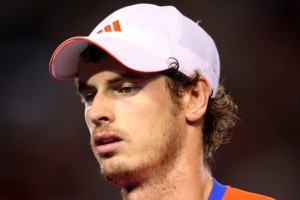 Mardy Fish is somehow the 8th seed at this tournament. The American has had a rough start to the year, and he hasn't given any indication lately that he's about to reverse the trend. But Fish has done well here in the past (he famously dismantled Federer in the 2008 semifinals), and he's always been comfortable on North American hardcourts. If there ever was an opportunity to re-establish his credentials, this is it. Of course, to do that he'll likely have to get past the gigantic John Isner and his even more gigantic serve in the quarters. Easier said than done.
Prediction: Murray def. Isner
Dark horse: Ryan Harrison
Third Quarter: Crowded in the middle
For some reason, all the multiple title winners of 2012 have been bunched together in this crowded little quarter. Milos Raonic, Roger Federer and David Ferrer have all triumphed at more than one event this year (Ferrer has actually won 3 titles). And the other 5 seeds haven't done too badly either: Jurgen Melzer and Juan Martin del Potro have won titles of their own, while both Gael Monfils and Fernando Verdasco have at least one runner-up result in 2012. Is this tennis's version of the 'Group of Death'? Honestly, it's just as likely to be dubbed the 'Group of the Wounded' by the tournament winds down; with all that winning, the seeds here have also played a lot of matches this year, and fatigue has to set in at some point.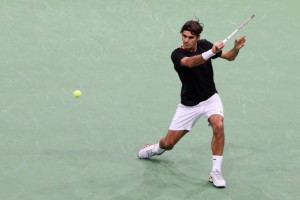 Federer seemingly has the toughest draw of the Big Four, slated as he is to meet Raonic in the 3rd round. We've seen a similar script before: last year, Raonic was all set to give Nadal a stern test in the 3rd round of Wimbledon, before injury struck and Raonic had to hand Nadal a walkover. I'm willing to bet that things won't quite as anti-climactic this time, but whether Raonic has the return game to trouble Federer remains to be seen. Things don't get much easier for Federer if he gets past that hurdle, of course. The winner of the Ferrer-del Potro match will likely be his quarterfinal opponent. Del Potro gave Federer all he could handle in their Dubai encounter last week, while the slow hardcourts here should theoretically suit Ferrer's game, so it promises to be tricky either way.
Prediction: Federer def. del Potro
Dark horse: Nikolay Davydenko
Fourth Quarter: The prodigal son returns
Where exactly has Nadal been the whole of last month? There have been rumors that the Spaniard has been locked away in a dungeon, intensely bashing balls against a wall for 10 hours at a stretch and running around faster than an Energizer bunny, while Uncle Toni looks sternly on. That's the only way Djokovic can be defeated, right? Even after 10 Major titles, a career Grand Slam, an Olympic gold medal and countless Davis Cup trophies, there's no rest for Nadal. He has to conquer the last obstacle in his path. He needs to. Indian Wells is the place where Djokovic's hypnotic dominance over Nadal began last year: Nadal's loss in the final here was the first of his 7 straight losses to the Serb. It's wouldn't be surprising, then, for Nadal to try everything in his power to ensure that the saga ends where it all started. Of course, it's just as likely that Nadal has been vacationing the whole of February, tanning himself on a deserted beach in some corner of the world, keeping his mind away from all things tennis. In any case, Nadal has traditionally taken some time to get back to his best after extended layoffs, so don't expect things to fall in place for him just yet. Miami, on the other hand…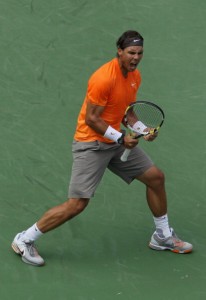 Nadal aside, there are plenty of flashy strokemakers that can liven this quarter like no other. Michael Llodra, Xavier Malisse, Ernests Gulbis, David Nalbandian, Bernard Tomic, Marcos Baghdatis, Donald Young, Alexandr Dolgopolov, Jo-Wilfried Tsonga – that almost sounds like a who's who of talented headcases (except maybe for Tomic, who's done nothing to justify that tag so far).
Prediction: Jo-Wilfried def. Nadal
Dark horse: Who else but that non-headcase, Bernard Tomic
Semifinals
Semifinal 1: Murray has shown substantial growth this year, he has Ivan Lendl as his coach, and as noted earlier, he has won two of his last 3 matches against Djokovic. Is that enough to bet on him getting past Djokovic two times in a row? Sadly for him, no. And that has as much to do with his own progress as Djokovic's superhuman level of play over the last year-and-a-half.
Prediction: Djokovic def. Murray
Semifinal 2: Federer has been on quite a roll lately, winning a whopping 5 out of his last 7 tournaments. And he usually does pretty well for himself when he's riding that kind of confidence. Can a wave of confidence nullify the effect that a slow surface invariably has on Federer's game? It might just, if only for a week or two.
Prediction: Federer def. Tsonga
Final: Federer def. Djokovic