Is women's tennis 'All sizzle and no steak'?
703 //
01 Mar 2012, 17:16 IST
The recent Australian Open has seen the crowning of yet another new Grand Slam champion – Victoria Azarenka of Belarus. It was her first Grand Slam final and her opponent Sharapova was already a 3 time Grand Slam winner. Despite the odds, Azarenka completely demolished Sharapova's game with her aggression and reflexes. Though Azarenka should be commended for her brilliant performance, the entire match itself lacked the thrill and excitement of a Grand Slam final and the audience must have been left with the question – "Is that it?" Surely everyone would have expected a player like Sharapova to have put up a good fight till the end but it looked as if she had simply surrendered. On the contrary, the men's final between Novak Djokovic and Rafael Nadal was a 5hr 53min combat of excruciating physical and mental effort. Each player was relentless in pursuing even a single point and in the end both looked like real winners.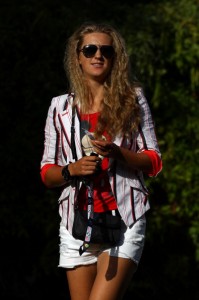 While men's tennis is showing class and depth of the sport with players like Djokovic, Nadal, Federer and Murray reaching the semi finals of all four grand slams, being in the top 4 of the women's championships has become anybody's call. The 2011 season has seen 4 different women Grand Slam champions. Unfortunately, none of them were able to replicate their success in other slams. Li Na created history by being the first ever Asian to win a Grand Slam after she won the French open 2011. But her triumph was a nine days wonder as she followed it up with a string of poor performances in other Grand Slams. The same goes with Petra Kvitova – the 2011 Wimbledon champion and Samantha Stosur – the 2011 US open winner who both shockingly lost in the opening rounds of the next Grand Slam that followed their winning slam. Some people argue that women's tennis is getting competitive with many young players making  their mark in the grand slam arena but their  inconsistency is engendering doubts about their true potential. The sudden rise to fame on winning a Grand Slam title and the high expectations that come with it, seems to be taking its toll on the mental strength of the players. Players are being lured by lucrative endorsement deals and tennis courts have become platforms for glamour and fashion rather than tennis prowess.
In the past, players like Chris Evert, Martina Navratilova, Steffi Graff, Monica Seles, Justin Henin etc. were known for their pure dedication to the game. No matter how many new stars we see, nobody can be compared to the captivating rivalries of Navratilova-Evert, Graff-Navratilova, and Graff-Seles ones that once ruled women's tennis. The women's game desperately needs 2 or 3 players to step up to the plate and give us riveting performances filled with intense moments of pain, pleasure, anger and frustration; in other words a rendition that gives life to the match.