It 'Paes' to pay tribute to an eternal superstar
741 //
21 Mar 2012, 11:11 IST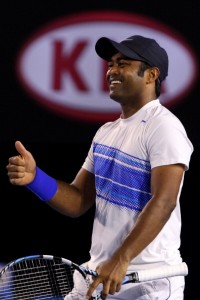 The entire planet is aware that cricket is the most popular sport in India and that it has achieved religion-like status in every household in very nuke and corner of the nation. In recent times, despite the team's abysmal performances, Sachin Tendulkar's historic achievement of hundred centuries in international cricket and Virat Kohli's sustained progress have given the people something to cheer about. However, amidst the euphoria surrounding the little master and the prodigy, everyone seems to have forgotten a superstar in his own right who has never been given due recognition since his achievements have always lived in the shadows of the cricket stars. The luminary I'm referring to is the indefatigable Leander Paes who has achieved legendary status in the world of tennis in the most professional manner imaginable. Having recently completed the elusive 'Career Slam' in doubles at  38 years of age by winning the Australian Open in 2012 with Radek Stepanek, Paes has achieved everything there is to win in the sport.
Coming from a family steeped in sport, Paes was exposed to the rigors of an athlete's life from an early age. That probably explains the tremendous success he achieved in his formative years on the pro circuit. We all know Paes as a specialist doubles player, but he has savored success in singles as well during his younger years. At the age of 17, he won the Wimbledon juniors' title (1990) and was also the number one junior player in the world at the time, not to forget his heroics at the 1996 Atlanta Olympic Games where he won the bronze medal. One of his biggest achievements in singles was beating top draw Pete Sampras (then world No.2) in an ATP tournament in 1998.
It was by choice that Paes decided to focus primarily on doubles and the mixed doubles category. Having won seven Slams as a doubles player and six Slams in mixed doubles, Paes has proved that he has the game and the temperament to win on different surfaces at the highest level. Having partnered with numerous players over his stellar career right from Ramesh Krishnan to Radek Stepanek and from Cara Black to Martina Navratilova, Paes is world-renowned for his partnership with fellow Indian ace Mahesh Bhupathi with whom he shared a tremendous degree of success that included three Slams and numerous other ATP tournaments. It's unfortunate, however, that the effervescent  'Indian Express' duo have shared a sparring relationship with each other over the years, and the biggest loser in this scenario is the sport itself. As an aside, Paes has always been a Davis Cup hero and he seems to raise the bar when it comes to playing for his country.
So, where does that leave Leander Paes amongst the few sporting greats to have emerged from India? As is tradition in our cricket-mad nation, a famous sports personality is looked upon as a major target in advertising circles. But I can't think of one product endorsed by the tennis superstar whilst new and unproven cricketers are lapping up endorsements all over the place. Paes might have his tryst with Bollywood and might make it to the tabloids on and off but he clearly deserves to be applauded more conspicuously for his commitment, his desire and for his contribution in enhancing India's profile in the world of tennis.