ITF women's tennis action hits Aurangabad next week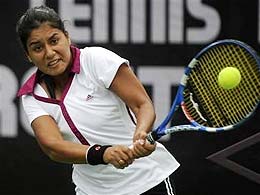 International women's tennis action will hit Aurangabad next week as the Endurance-MSLTA USD10,000 Women's ITF Tennis Championships kicks off on Monday.
The event will be held from March 5 to March 10 and is the first of three consecutive ITF events in India, giving a chance to lower ranked Indian women to earn WTA points and improve their ranking without having the additional burden of spending on international travel.
The top Indian in the fray is Prerna Bhambri, ranked 662nd in the world. Other Indians in the main draw include Sharmada Balu (748), Nidhi Chilumula (765), Ashvarya Shrivastava (780) and Kyra Shroff (861). Tournament director Sunder Iyer said, "We have received an exceptionally high cut off for the event, as this is the first event in the ITF India swing of three events. The Aurangabad event will be followed by Mumbai and then the USD 25000 event at Bangalore."
Slovakia's Dalila Jakupovic, ranked 408, Peangtarn Plipuech of Thailand (453), Deniz Khazaniuk of Isreal (458), Nicole Clerico of Italy (512) and Anja Prislan of Slovakia (518) will be the top seeded women in the draw.
"We are glad to be associated with an international women's event and support the cause of women empowerment through sports and promote the game of tennis in Aurangabad," said EMMTC chairperson Varsha Jain.
Wild cards have been handed out to National doubles winner Ankita Raina, Prarthana Thombare, Natalia Khanejio and Vania Dangwal.
The winner will get 18 WTA points and USD 1568, the runner up will get 10 WTA points and USD 980.