Llodra under fire as he retires, then reappears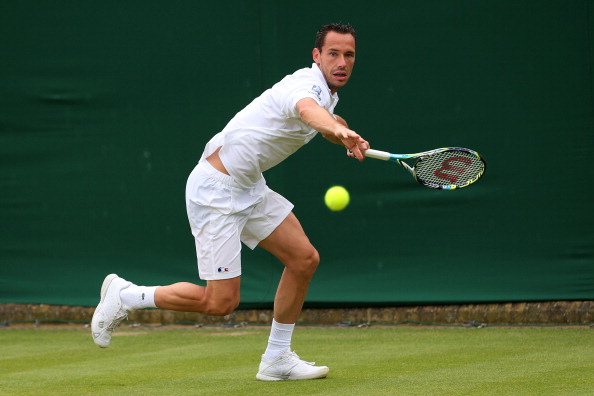 France's Michael Llodra pulled out of the Wimbledon singles on Thursday citing a hamstring injury — but then went straight out to play in the men's doubles, sparking questions as to whether he was trying hard enough.
Playing on Court 14, Llodra lost the first set of his second round singles match 7-5 to Italian 23rd seed Andreas Seppi, then pulled out due to what he said was a hamstring tear.
So, many people were surprised when three hours later he turned up on Court 6 for a match with his doubles partner Nicolas Mahut.
To add a further twist, their opponents Jan Hajek and Jaroslav Levinsky of the Czech Republic pulled out at 5-4 down in the first set.
Llodra has a track record of pulling out during singles matches, having previously done it on 31 occasions. By comparison, 17-time Grand Slam champion Roger Federer has never done so.
Llodra could not see what all the fuss was about.
"In singles it's too difficult and dangerous for my hamstrings. I prefer not to take any risks to play doubles. Doubles is easier. You play half court."
"I knew before the match is was going to be difficult. After losing the first set, I knew trying to win in four, five sets could be difficult for me and for my hamstring. So I prefer to stop and try to play doubles 100 percent.
"When I'm in an overstretch, it's painful. Sometimes it's a little bit like pinches.
"So I prefer to pull out. I can play doubles: it's easier."
Asked if he wanted to apologise to spectators on the 312-capacity Court 14 who might have wanted to see him play a full singles match, he said: "I want to apologise for me. It's my body.
"I can understand it's difficult for the fans to realise or to understand my situation."
Llodra has now retired hurt during singles matches 32 times in his career, including in qualifiers, while there have been two walkovers where he has not even started the match.
Under the Grand Slam rules, a player can play doubles later in the day after withdrawing hurt from the singles. All players who retire hurt are checked out by a tournament doctor, who verifies whether they really are injured.
However, if they wish to play in the doubles, they must also be passed fit to play in that competition by the tournament medical staff.
"I prefer to stay focused on doubles. I think I have more chances to win this tournament. Sometimes you have to make the choice," said the Parisian, who won the Wimbledon 2007 men's doubles.
Asked whether it could be construed that he was not trying hard enough, he said: "I can make an MRI (scan) to show everybody what is my hamstring. I have no problem with that.
"You have to believe the player."