Majeric completes a double with first singles title
978 //
29 Dec 2012, 16:47 IST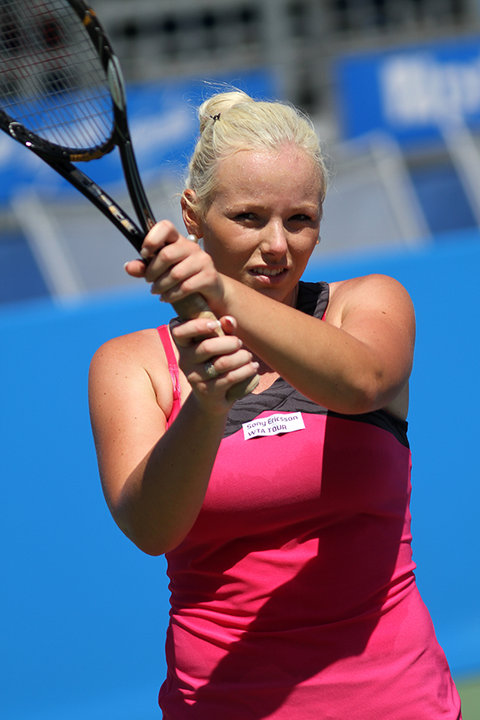 Pune, Dec 29 (IANS): Slovenia's Tadeja Majeric gave herself a new year gift by completing a double when she beat Turkey's Basak Eraydin in two hard-fought sets at the NECC-ITF Women's $25,000 tennis tournament here at the Deccan Gymkhana Saturday.
"I want to rest for some time and enjoy with family before heading to the United States to play in back-to-back $25,000 ITF tournaments," said Majeric after her 6-2, 6-4 win over Earydin.
A baseliner, Majeric did lose some composure midway through the second set when Eraydin forced her to come to the nets but the Slovenian held on.
Making her third visit to Pune, Majeric, who won the doubles title in company of Swiss Conny Perrin, added the first singles title to her collection.
"I was a bit nervous going into the final match. Maybe slightly emotional as I wanted to win the title and close the year on a high note," said Majeric, who earned 50 ranking points for her effort and $2,940 as the winner's prize money.
Majeric opened the first set by breaking Earydin in the first game but the Turkish player shot back by levelling the scores by winning the second game on break. The Slovenian wasn't ready to give up easily as Majeric made it 1-2 before holding her own serve to widen the gap (1-3).
"I had good tactics going into the match. I played on her backhand, which is weak," explained Majeric.
As Majeric broke Earydin for the third time in the first set, taking the fifth game for 4-1 lead before serving out the set 6-2.
Both players began the second set on a cautious note as the game went with the serves till 3-3 before Majeric found that break when Earydin committed several unforced errors.
The Turkish player knew Majeric was weaker at net and used that factor to her advantage by breaking back to put the set at 4-4.
"She played a better second set. I also committed some mistakes as I wanted to finish the final," Majeric said.
But Majeric's passing winners saw her take the ninth game and when she served for the match, an eventuality Earydin could not avoid. Serving for the match at 40-30, Majeric sent a deep serve as Earydin's return went long to give the Slovenian well-deserving win in one hour and 18 minutes.
Earydin won 34 points for her runner-up finish and $1,666.
Final singles result: 3-Tadeja Majeric (SLO) bt Basak Eraydin (TUR) 6-2, 6-4.