Nadal - A person on a quest
841 //
29 Mar 2012, 12:01 IST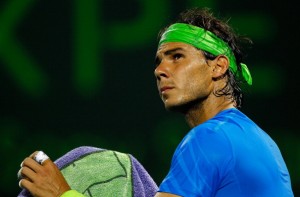 As the Miami masters is reaching its climax, one man would be specially looking forward to the end of the hard court season. Irrespective of whether he will be crowned as the champion this Sunday in Miami or not, his focus must have already shifted towards the upcoming clay court season.
This player has been having a nightmarish experience for quite some time now. The last ten months will always be spoken about in the history of tennis as the time during which whenever this guy felt himself to be an inch closer to winning a title, there was another man who literally proved to be a thorn in his flesh. So this man, who we better know by the name of Rafael Nadal, must be desperately waiting to walk on to the courts of Barcelona, Madrid, Rome and France.
When Nadal, whatsoever form he is in, gets a chance to show his skills on a clay court, no player alive would want to be on the opposite side of the net. On clay, he demolishes his opponents at will. There was a time when Thomas Muster was called the 'king of clay' because of his incredible claycourt skills. But if Muster was ever a king, then Rafa should be called the 'supreme emperor'.
No one has dominated the clay court like Rafa. The Spaniard was just 18 years old when he won his first major title and no prizes for guessing that it happened to be at Roland Garros.  Ever since then, there has been no player who could consistently challenge him. Even the great Roger Federer who was collecting Grand Slam titles in a hurry was unable to conquer this territory where Nadal was, simply, invincible. It took one big off-day for Nadal during the fourth round of French open 2009 where a little known Swede, Robin Soderling, upset the Spaniard in four sets. The fact that this was his only loss in French Open since his debut in 2005 clearly shows how dominant this man has been.
Clay suits Nadal's baseline power game very well, but soon Nadal had adapted his game to suit other types of courts as well. So much so, that he even defeated the incomparable Roger Federer in a five-set thriller in the final of Wimbledon 2008. Thereafter, he was victorious at the 2009 Australian Open 2009 which was neither a clay court nor a grass court, again beating Roger in five sets. It was then that people started to view the so-called clay specialist in a different light. Nadal is now considered a potential title winner on all surfaces. In fact, at Flushing Meadows, New York in the year 2010, he became one of the very few players to capture a career Grand Slam when he defeated the current World No.1, Novak Djokovic, in four sets.
Little did Nadal realize then that the same player who he had beaten at the 2010 US open so comprehensively would go on to build a perfect 7-0 record over him in the next one year and two months. When Nadal lost to David Ferrer in the 2011 Australian Open, owing to injury, it was Novak Djokovic who gained his second Australian Open crown. After that, the tables were turned completely. Whenever Nadal reached the final of any tournament, he found Nole on the other side of the court. Nadal was able to win at Barcelona, where Djokovic did not participate, and this came as a relief after his shocking defeats in the finals of Indian wells and Miami to the Serb.
Nadal's fans would have expected a change in fortunes thereafter for their idol as he went deeper into the clay season. But to his dismay, Novak Djokovic, it seemed, had his number on clay too. He went on to inflict defeats twice in two of the clay court Masters' to Rafa and that too in straight sets. So when the 2011 French Open started, there was not one single favourite as it always used to be before, but two favorites, with Nole joining Nadal. Djokovic had a roller coaster ride till the semifinals of the French Open, but there he suffered his first defeat of the year at the hands of Roger Federer. And Nadal the mighty clay court specialist, despite having an indifferent start to the final, had little trouble overcoming Federer, in the process winning his record-equaling sixth French Open crown.
So it was with high expectations that Nadal entered the grass courts of Wimbledon, even though he did get beaten at Queens by Jo-Wilfred Tsonga. Rafa had a smooth sail to the final of the tournament which he had already won twice before. But there he again encountered the hottest star of the year, Novak Djokovic. It was then that it seemed that Nadal had finally found his nemesis, as he succumbed to Djokovic in four sets, leaving the Serb basking in the glory of his first-ever Wimbledon title. By that time, Djokovic had beaten Rafael Nadal five times in a row and incidentally, all of them were finals.
So Rafa went to Flushing meadows with much at stake, his title-winning image getting dodgier by the day. Once again, he was left to take the bull by the horns, as Djokovic duly took his place on the other side of the net in the final. This match turned out no different than Wimbledon, as Nadal tasted defeat at the hands of Nole one last time in the year 2011, handing the latter his third major title of the year.
After getting mauled in the final tournament after tournament, Nadal, as expected, underwent a lot of suffering. But after a month of rest and recuperation, Rafa would have expected a better 2012. Here again, though, his expectations were put to the sword with a loss againt Monfils in Qatar and more importantly, a fighting loss to Djokovic in an epic five-setter final in Melbourne. Rafa took a break of more than one month from tennis and was looking good till the semi finals of Indian Wells, where he was beaten by Roger Federer, the eventual champ.
So in the last ten months Nadal has won no titles despite coming so close to win every title, with Nole standing between him and victory every single time. Which is why the Spaniard would be really looking forward for the clay court season to start. It seems the best way for Rafa to get back to his winning ways is to gain confidence by playing on claycourts, where his domination had started in the first place. Continuous defeats at the hands of Nole on all kinds of courts would no doubt have left deep scars on Nadal which can't be cured unless he gets his hands on the trophies.
I strongly believe Nadal is up and ready for the task but there is again that man Djokovic, who has already set his sights on his first Roland Garros title.
A mouth-watering battle is on the cards in the upcoming claycourt season.