NECC-ITF Women's Tennis: Thombare eases into second round
1.05K //
24 Dec 2012, 20:51 IST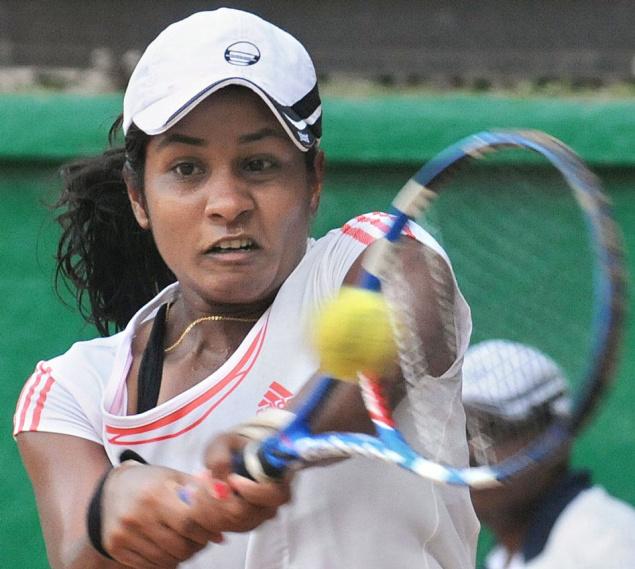 Pune: Barshi girl Prarthana Thombare made the most of the wirld-card entry given to her by storming into the second round of the NECC ITF Women's $25,000 event being hosted and organised by Deccan Gymkhana on Monday.
On the first day of the main draw, where six of the 16 first round singles matches were played, Thombare got the better of qualifier Nidhi Chilumula 6-4, 6-3. Thombare, who has been leaving in Pune for past six years, took an early lead in the first set and stayed ahead of her opponent throughout the match. The win has ensured at least eight WTA ranking points for the Maharashtra girl.
Prarthana, however, wasn't all that lucky in doubles as she and partner Ankita Raina lost a close contest against Indo-Hong Kong combination of Natasha Palha/Ho-Ching Wu 7-6 (7-5), 3-6, 10-8.
In the toughest match of the day, Mumbai's Kyra Shroff survived a brave fight from qualifier Etee Maheta, winning the contest 3-6, 6-2, 6-1. Kyra, who is the highest ranked Indian singles player at 488, just didn't find her rhythm in the first set. But once she started connecting her ground strokes and serves early in the second set, it was one-way traffic from there.
Taipei's Ya-Hsuan Lee won the battle of qualifiers against India's Bhuvana Kalva 6-1, 6-1.
There was a upset in the doubles draw as Turkey's Basak Erydin/Melis Sezer knocked out third seeds Ilona Kremen from Belarus and Russia's Margarita Lazareva 6-3, 7-5.

Following are the results: First Round:
Kyra Shroff (Ind) bt Q-Eetee Maheta (Ind) 3-6, 6-2, 6-1;
WC-Prarthana Thombare (Ind) bt Q-Nidhi Chilumula (Ind) 6-4, 6-3;
4-Sheng-Nan Sun (Chn) bt WC-Rishika Sunkara (Ind) 6-2, 6-0;
8-Jia-Jing Lu (Chn) bt LL-Sowjanya Baviseti (Ind) 6-3, 7-5;
Shiho Akita (JPN) bt Q-Chihiro Takayama (JPN) 6-2, 4-4 retired;
Q-Ya-Hsuan Lee (TPE) bt Q-Bhuvana Kalva (Ind) 6-1, 6-1;
Doubles: Round 1:
Basak Eraydin (TUR) /Melis Sezer (TUR) bt Ilona Kremen (BLR) / Margarita Lazareva (RUS) [3] 6-3, 7-5;
Nidhi Chilimula (IND) / Sheng-Nan Sun (CHN) bt Varunya Chandrashekhar/ Rashmi Teltumbde (Ind) 6-2, 6-0;
Ya-Hsuan Lee (TPE) /Chihiro Nunome (JPN) bt Rutuja Bhosale (IND) /Rishika Sunkara (IND) 6-4, 6-2;
Natasha Palha(Ind) /Ho Ching Wu (HKG) bt Ankita Raina/Prarthana Thombare (IND) 7-6(5), 3-6, 10-8;