Andy Roddick has lauded Daniil Medvedev for his improvements on clay courts in the lead-up to the Italian Open semifinal.
After going 0-3 in his previous appearances at the Masters event, Medvedev advanced to the semifinals in Rome after defeating Yannik Hanfmann in straight sets, 6-2, 6-2. The former World No. 1 will now take on last year's finalist Stefanos Tsitsipas in the semifinal for their 12th meeting on the ATP tour.
Andy Roddick joined Steve Weissman and Jim Courier on the Tennis Channel to provide a comprehensive preview for the highly anticipated semifinal clash. After Courier presented his argument in favor of Tsitsipas' potential victory, Roddick did the same for Medvedev.
The American highlighted the former World No. 1's remarkable progress on clay courts, particularly in comparison to last year when he struggled to secure a single victory before the French Open. He labeled the Russian as the "uber problem solver" for his recent transformation on clay.
"It's going to be an uphill struggle. I'm a huge fan of Daniil Medvedev, there's no secret there. What he's done this week, the improvement I've seen from last year where he didn't win a single match in the lead up to the French Open, to this year where he's consistently winning matches and now emphatically winning matches. This guy is the uber problem solver," Roddick said.
The 40-year-old also marveled at Medvedev's "insane" agility and court coverage despite his towering height.
"His movement is just insane. For someone thats 6'7 to be able to defend this amount of territory and to be able to flip that with topspin, that's something that, I don't care how much firepower you have, you have to solve for the awkwardness that is Daniil Medvedev. And the guy can serve 135-140 km/h," he added.
Most of the time you would favor Stefanos Tsitsipas on this surface, but I love what I've been seeing from Daniil Medvedev: Andy Roddick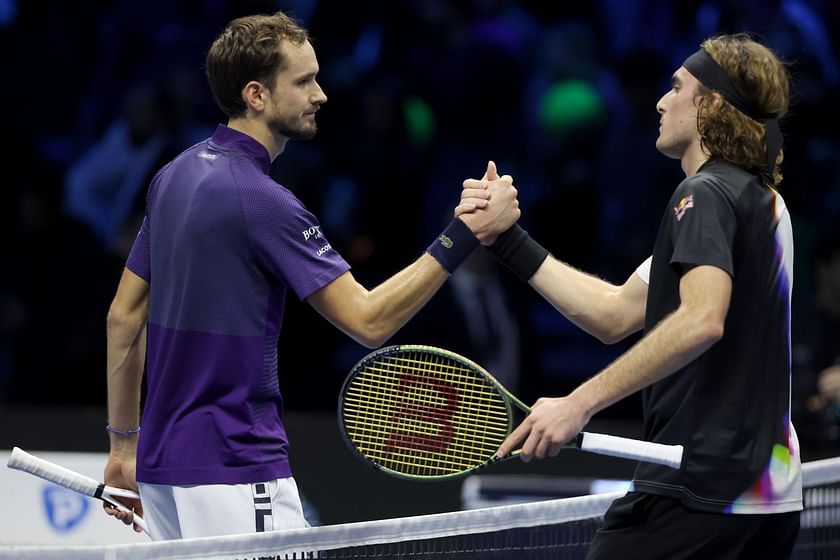 Andy Roddick also provided an analysis of the necessary adjustments Daniil Medvedev would need to make to counter Stefanos Tsitsipas' powerful forehand.
"The way that Tsistipas is going to be able to get that forehand from the middle of the court and dictate, Medvedev knows that. Medvedev is going to have to force it into the backhand corner a little bit more than he likes," Roddick said.
Roddick praised Medvedev's exceptional returning skills, suggesting that Tsitsipas' serve might not be as effective against him. While traditionally one would favor Tsitsipas on clay, the former World No. 1 expressed his admiration for the Russian's recent performances on clay.
"But I just love the way he's returning. I don't think Tsitsipas' serve is going to get through the court as much as it normally does. He's not going to miss returns and weirdly, the pressure's on Stef because this is his surface. Most of the time you favor Stef on this but I love what I've been seeing from Daniil Medvedev in Rome and in Madrid for that matter," he added.
Daniil Medvedev leads 7-4 in his head-to-head against Stefanos Tsitsipas. However, it was Tsitsipas who emerged victorious in three of the pair's last four meetings, including the pair's last meeting on clay during the quarterfinals of the 2021 French Open.
Edited by Siddharth Dhananjay