Aryna Sabalenka has been a subject of drama since her opening match at the French Open 2023 against Marta Kostyuk. It is due to the ongoing war in Ukraine, where Belarus has also played a role alongside Russia.
Sabalenka has often been asked about the war, including an incident when a Ukrainian journalist questioned her about her country's President Alexander Lukashenko.
Aryna Sabalenka has often voiced her disapproval towards the war and recently said that she did not support Lukashenko at the moment.
"Like it's a tough question. I mean, I don't support war, meaning I don't support Lukashenko right now," the Belarussian said.
Journalist Dmitriy Navosha spoke about Sabalenka in an interview with Ubitennis. He claimed that 25-year-old's victories were used by Alexander Lukashenko as a political tool to legitimize himself and justify his actions.
"We regularly see this in Belarus. The government's narrative is: 'The whole world is against Belarus and Russia, but we are strong and we are winning. So let's rally around our leader Alexander Lukashenko and even more actively deal with the enemies of the state,'" Navosha said.
"Sabalenka's victories are actively used by the Belarusian dictator to legitimize himself and justify his heavy repressions," he added.
Navosha further stared that Aryna Sabalenka could pevent herself from being used in government propaganda by condemning Lukashenko's leadership or the war in Ukraine.
"Can Sabalenka stop herself from being used in government propaganda? I would say that yes, of course, she can. She can do so by condemning either the dictatorship of Lukashenko or the war he supports in Ukraine," Navosha said.
"As the experience of other numerous Belarusian sports stars who opposed the war and dictatorship shows, this instantly deprives the opportunity to use such an athlete as propaganda," he added.
---
Aryna Sabalenka will take on Karolina Muchova in the semi-finals of the French Open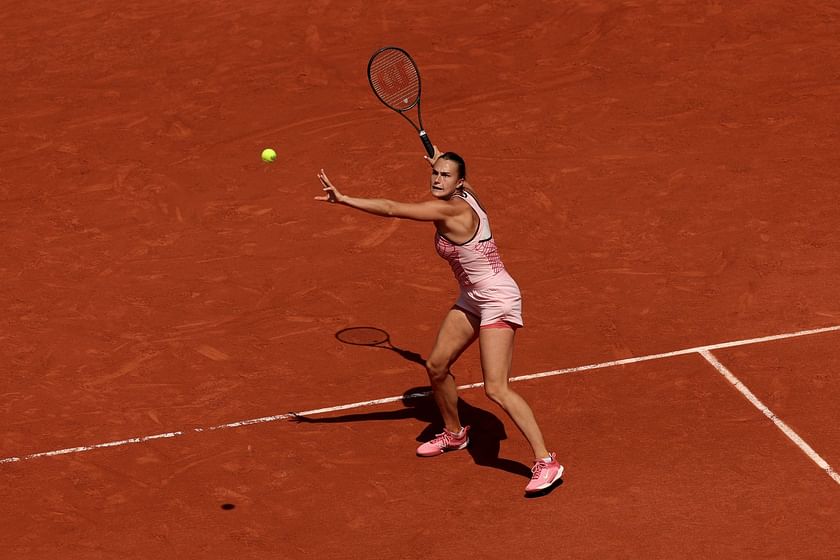 Aryna Sabalenka booked her place in the French Open semi-finals by beating Elina Svitolina 6-4, 6-4. The 25-year-old will now take on Karolina Muchova who reached the final four of a Grand Slam for only the second time in her career by beating Anastasia Pavlyuchenkova 7-5, 6-2.
Sabalenka and Muchova will lock horns for the second time. The Belarusian won their previous encounter 7-5, 7-6(4) in the semi-finals of the now-defunct WTA Elite Trophy in 2019.
Whoever out of the two wins, will face either defending champion Iga Swiatek or 14th seed Beatriz Haddad Maia in the French Open final