Pete Sampras entered the 2002 Wimbledon as a 13-time Grand Slam champion, which included seven titles at SW19, the highest at the time.
However, he was furious to learn that one of his matches was scheduled on Court 2, where the conditions were not to Sampras' liking. The first-round match saw the American beat Martin Lee in straight sets. He was set to face Swiss lucky loser George Bastl in the second round on Court 2.
In his autobiography A Champion's Mind, Sampras stated that although he was confident after his opening-round win, he felt snubbed upon learning that he had to play on the "Graveyard" Court 2.
"I was stunned when the schedule came out on the evening before my match and I saw that I was being relegated to Court 2 — Wimbledon's infamous Graveyard Court. I don't want to sound like a prima donna or anything, but that was a snub," Sampras said.
Sampras remarked that he always played on either the Center Court or Court 1 and that Court 2 had its limitations, making it prone to "headline-making" upsets over the years.
"I was shocked and angered when I heard that Alan had put me on Court 2 for the second-rounder against Bastl," he added. "Court 2 was unfamiliar territory to me. It was called the Graveyard Court because of the extraordinary number of headline-making upsets that had occurred on it. Those upsets occurred partly because of the atmosphere and conditions."
Pete Sampras further felt that Court 2 had limited seating capacity and the crowd was extremely close to the sidelines. In addition, crowd noise from adjacent Court 3 was a major distraction and the American icon felt that he deserved better treatment. He eventually lost the match 3-6, 2-6, 6-4, 6-3, 4-6.
"I felt that as a dominant champion for so many years, I deserved a little better. If I lost there, the headlines the following day would be sensational: GRAVEYARD COURT CLAIMS ANOTHER CHAMP! SAMPRAS BURIED ON GRAVEYARD COURT," he concluded.
---
Pete Sampras, John McEnroe, and Andre Agassi would get 'absolutely snipped' in this era: Nick Kyrgios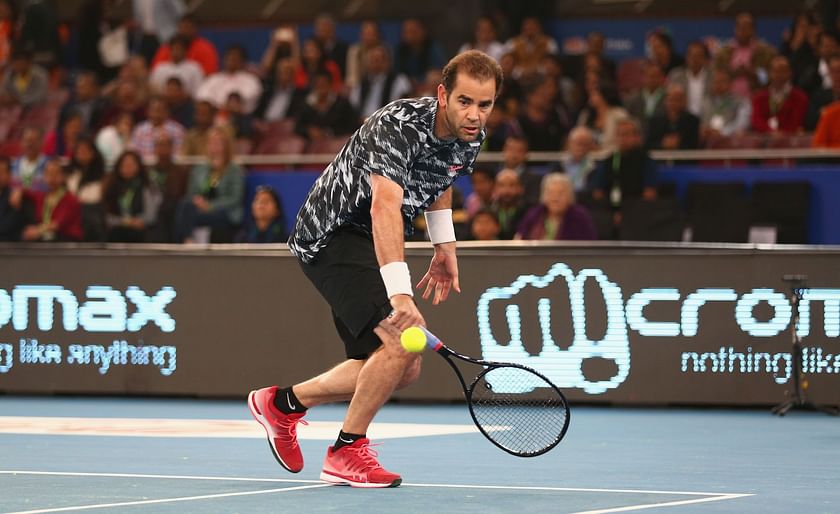 Nick Kyrgios was recently asked who he thought was the greatest player in tennis. Speaking on Logan Paul's 'Impaulsive' podcast, the Australian drew comparisons between tennis and basketball.
"I think Federer and Jordan are very similar," Kyrgios said. "Without Jordan obviously there is no LeBron, there's no Kevin Durant, no Kobe, they were trying to chase something."
When asked if Pete Sampras, Andre Agassi, and John McEnroe could be a part of the discussion, Kyrgios said:
"Jordan could still play in this era. Where like those guys would get absolutely snipped in this era."
While Sampras ended his career with 14 Grand Slam titles to his name, a record that was thought unbreakable at the time, he has since been leapfrogged by the Big-3 of Roger Federer, Rafael Nadal and Novak Djokovic in the Slam race.