After winning the 2023 Australian Open title, Aryna Sabalenka became the first athlete to lift the Grand Slam trophy with her name imprinted without any recognition towards her home country.
Sabalenka also entered the Grand Slam tournament under a neutral flag. The 24-year-old, who hails from Belarus, has been competing under a neutral flag since Russia, with the support of Belarus, launched an invasion of Ukraine in February 2022.
When asked about the situation in her post-win press conference, Sabalenka brushed it off by saying that despite the absence of her country's name from the Daphne Akhurst Memorial Cup, the public was aware of her roots.
"I think everyone still knows that I'm Belarusian player. That's it," she said.
Sabalenka, along with many other top tennis players such as Victoria Azarenka, Daria Kasatkina, Veronika Kudermetova, Andrey Rublev, Karen Khachanov, and Daniil Medvedev, was shunned from Wimbledon in 2022. The Grand Slam event announced a ban on Russian and Belarusian players for the 2022 edition.
"Missing the Wimbledon was really tough for me. It was tough moment for me," 2021 Wimbledon semifinalist Sabalenka said, when asked about it.
However, she dismissed the events of the past by recollecting her latest hard-earned victories, including her 2022 US Open semifinal run.
"But, I mean, I played US Open after. It's not about Wimbledon right now. It's just about the hard work I've done," she remarked.
The Belarusian also revealed that she would be celebrating her Australian Open victory in Miami, where she currently resides, instead of returning to her birth country.
"I will go back to Miami. I live there right now," she said.
---
Aryna Sabalenka ecstatically reacts to seeing her name on the Australian Open trophy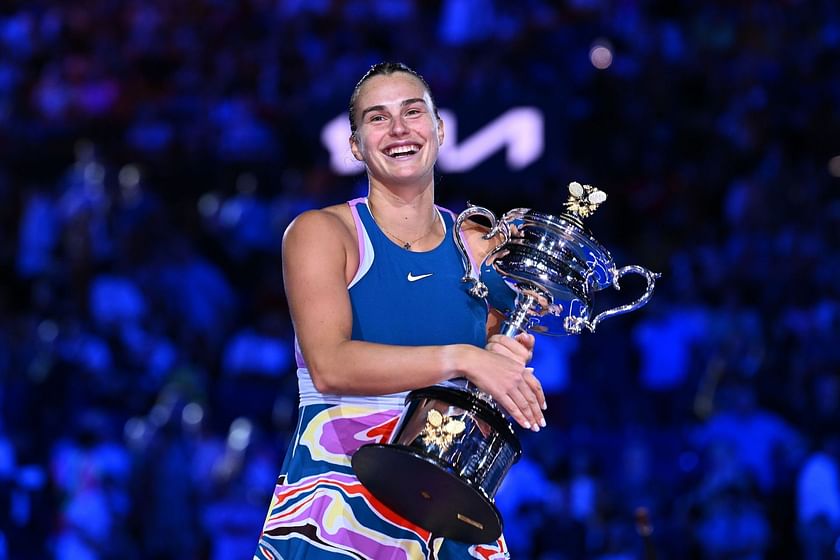 Aryna Sabalenka had quite the reaction to seeing her name engraved on the Daphne Akhurst Memorial Cup, and the soon-to-be reinstated World No. 2 was unperturbed by her country's missing name on the trophy.
"Oh my God! I already have my name! Wow! This is just unbelievable," the newly crowned champion exclaimed after her first glance.
"Oh my God. With all these stars," she added, as she glanced through all the previous winners of the Australian Open.
With her Australian Open win against Elena Rybakina in the final, Aryna Sabalenka became the 58th different women's Grand Slam winner and the 29th different champion Down Under in the Open Era.