Tennis legend Boris Becker recently said that he was pleased to cross paths with A.S. Roma manager Jose Mourinho at the 2023 Italian Open men's singles finals.
Mourinho was in attendance at the Italian Open final on Sunday (May 21) to watch Daniil Medvedev and Holger Rune play, and the fans honored him with a standing ovation.
The former Inter Milan manager was there with his former player Marco Materazzi, and he was also there a week earlier to watch World No.1 Novak Djokovic in the second round.
Apparently, six-time Grand Slam winner Boris Becker was also in attendance, five months after being deported to Germany following his time in UK custody. He met the Portuguese there and posted on Instagram about how happy he was with the interaction.
"Always a pleasure to meet this football legend: @josemourinho - thank you for your warm embrace, nice chat and all the best for the upcoming European trophy chase with @officialasroma," Becker wrote.
---
Daniil Medvedev is the men's singles winner of the Italian Open 2023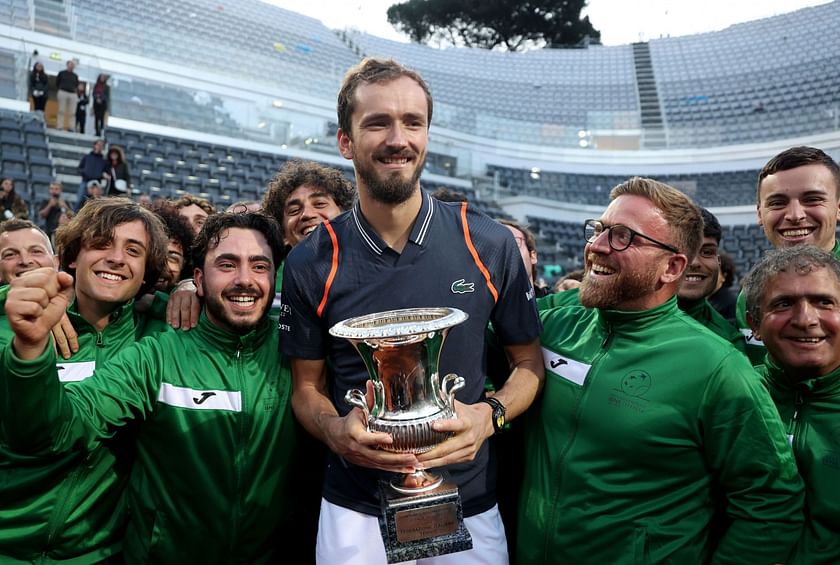 Daniil Medvedev won his first clay-court title and sixth ATP Masters 1000 title, defeating Holger Rune in the final of the Italian Open. Medvedev won the rain-delayed match 7-5, 7-5 by delivering a consistent and clean-hitting performance.
Medvedev's previous appearances in Rome had not resulted in a single victory, but the 27-year-old displayed his best clay-court tennis this season. On his way to the final, he defeated former finalists Alexander Zverev and Stefanos Tsitsipas.
The Russian said in his victory speech that while he always believes in himself and his ability to win the world's biggest tournaments, he didn't think he could win an ATP Masters 1000 title on clay, a surface he clearly disliked previously.
"I always want to believe in myself and I always want to win the biggest tournaments in the world. But at the same time, I didn't think I could win a Masters 1000 on clay in my career because usually I hated it, I hated playing on it. I didn't feel good on it and nothing was working," Medvedev said.
However, he wasn't feeling "too bad" going into the Italian Open and stated that he was happy to have won it and proven to everyone and himself that he was capable of doing so.
"Before this tournament already in Madrid and Monte-Carlo I wasn't feeling too bad. I thought, 'OK, let's continue'. Then when I came here I felt so good in practice and I told my coach, 'I don't know what is happening but I am feeling amazing, so let's see how it goes'," Medvedev said.
"But then you have to play the toughest opponents in the world to try to make it. I am really happy I managed to do it and to prove to myself and everyone else that I am capable of doing it," he added.