Commenting on the matchups that he would like to watch in tennis, Daniil Medvedev picked rising star Carlos Alcaraz against two of the biggest icons in the sport — Novak Djokovic and Rafael Nadal.
On his way to his second Masters 1000 title at the 2022 Madrid Open, Alcaraz did the unthinkable by defeating Nadal in the quarterfinals and Djokovic in the semifinals. He went on to beat Alexander Zverev in the summit clash a couple of days after turning 19. Only Argentina's David Nalbandian managed to beat the Big 3 (Roger Federer in the final) in back-to-back matches at the 2007 Madrid Open.
World No. 6 Medvedev was a guest on 'The Tennis Podcast' recently, where he was asked which players that he likes to watch and matchups that he would want to watch in the future. The Russian picked Djokovic and Zverev before stating that he enjoyed the match between Alcaraz and Thanasi Kokkinakis at the 2023 BNP Paribas Open.
"Djokovic is there. Before Sascha's injury, it was amazing to watch the Olympic games and the US Open," Daniil Medvedev said. "But there are so many good match-ups, what else can I choose? I just like to watch tennis, what did I watch the other day? I watched Alcaraz-Kokkinakis, it was a great match in my opinion, you know."
World No. 2 Alcaraz won the 2022 US Open but faced neither Nadal nor Djokovic. Medvedev remarked that he would have liked to see the youngster have a go against the two players.
"I think I would like to see more of Alcaraz, Novak, and Rafa because when he beat them both in Madrid, again, I was injured so I didn't watch the matches. But I watched Instagram and there was a highlight reel and there were so many highlights from these matches," the Russian said.
"So I think that could be great and it's a pity that when Carlos won the US Open, he didn't have to face one of them because I think this could be amazing to watch," he added.
---
Daniil Medvedev to face Carlos Alcaraz in Indian Wells 2023 final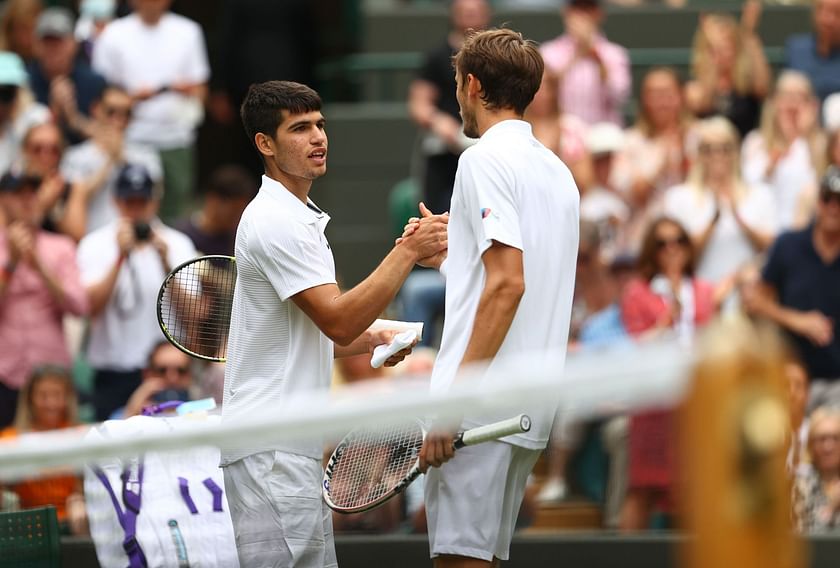 Top seed Carlos Alcaraz will face fifth seed Daniil Medvedev in the title clash of the 2023 BNP Paribas Open in Indian Wells tonight (March 19).
This will be the second meeting between the two players, with a straight-sets win for the Russian at the 2021 Wimbledon when they first faced each other.
If the Spaniard wins the final, he will replace Novak Djokovic as the World No. 1. Daniil Medvedev, on the other hand, is on a 19-match winning streak with successive titles in Rotterdam, Doha, and Dubai.