According to Rick Macci, the former coach of Serena and Venus Williams, 15-year-old American Darwin Blanch is on course to becoming the next star on the ATP tour.
Rick Macci took to social media to praise the American youngster Darwin Blanch, who is currently ranked at World No. 34 in the ITF junior ranking and World No. 1176 in the ATP rankings.
Blanch has won two ITF juniors singles titles, the 2022 J3 Istanbul and the 2023 J300 Porto Alegre. Hall of Famer tennis coach Rick Macci has high hopes for Blanch.
"American 15-year-old Darwin Blanch will have one of the best forehands and serves on the ATP tour in the near future. Everything is science-based and wired correctly from age 6. The muscle memory is brainwashed to optimize execution in sync so you do not have a technical flaw," Rick Macci wrote on social media.
Darwin Blanch showed up on the radar of tennis fans for the first time at the 2022 juniors US Open, where he reached the second round. He was defeated by Yaroslav Demin, 4-6, 6-3, 5-7.
Blanch has had an impressive run at the 2023 French Open juniors, reaching the semifinals of the tournament. He became the first player born in 2007 to reach the semifinals of a junior Grand Slam.
Previously, Blanch became the first player born in 2007 to score an ATP point, and the second youngest to do so, aged 14 years and three months. Blanch has been training at the JC Ferrero Equelite Sport Academy in Alicante, Spain.
---
Darwin Blanch to face Dino Prizmic in juniors French Open 2023 semifinal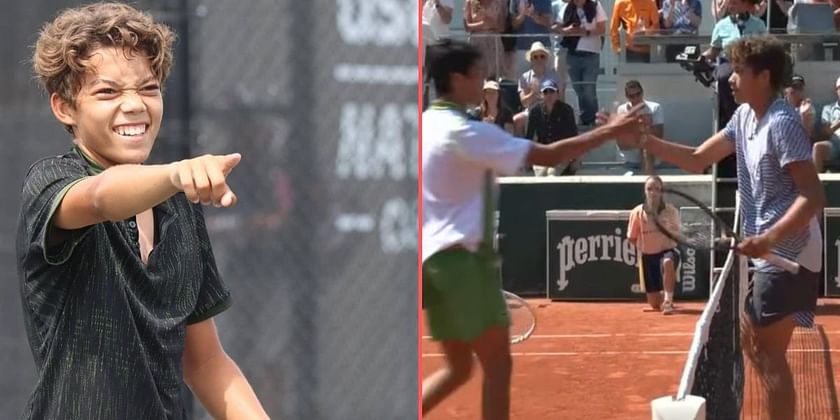 Darwin Blanch and Dino Prizmic will compete in the semifinals of the 2023 juniors French Open on Friday, June 9. The 17-year-old Prizmic is two years older than Blanch and is currently the 293rd ranked player in the world.
On his way to the semifinals, Blanch defeated top seed Rodrigo Pacheco Mendez, 6-2, 7-5, in the first round.
In the second round, he got past Antoine Ghilbaudo, 6-3, 6-3 before beating Adriano Dzhenev, 6-3, 6-7(4), 6-3, in the third round. In the quarterfinals, Blanch beat ninth-seeded Cooper Williams, 7-6(5), 2-6, 6-3.
If Blanch can go all the way in Paris, he will become the youngest Grand Slam boy's singles winner since the 2008 Australian Open.