Stefanos Tsitsipas stated that he wants to become the World No. 1 on the ATP tour after being ranked No. 1 in the juniors earlier in his career.
The Greek moved on to his maiden Australian Open final after defeating Russian Karen Khachanov 7-6(2), 6-4, 6-7(6), 6-3 in four tight sets in the semifinals. The third seed will have the opportunity to not only capture his maiden Grand Slam title but also become the World No. 1 in the ATP Rankings for the first time in his career on Sunday.
In his post-match press conference, Tsitsipas revealed that he used to dream about these moments for himself when he was younger and watching other players on TV.
"I remember watching it on TV and saying to myself, I want to be there one day myself. I want to recreate that feeling for myself. I knew that's a very long journey to get there. There are certain steps you have to take to give yourself the chance to be competing for something like this. But I very much believed it," he said.
The 24-year-old mentioned that he was fortunate to be a good player as a junior in his country and wanted to become a top-ranked player again, as he was on the junior circuit.
"Thank God I was good in my country. Starting from that, I knew if I'm able to get out of my country and compete in other countries, I proved myself over and over again that I'm actually good. I did finish as a junior No. 1. Now I want to do it in the men's side, in the men's professional tennis, yeah," Stefanos Tsitsipas added.
"I'm playing great tennis; I'm enjoying myself" - Stefanos Tsitsipas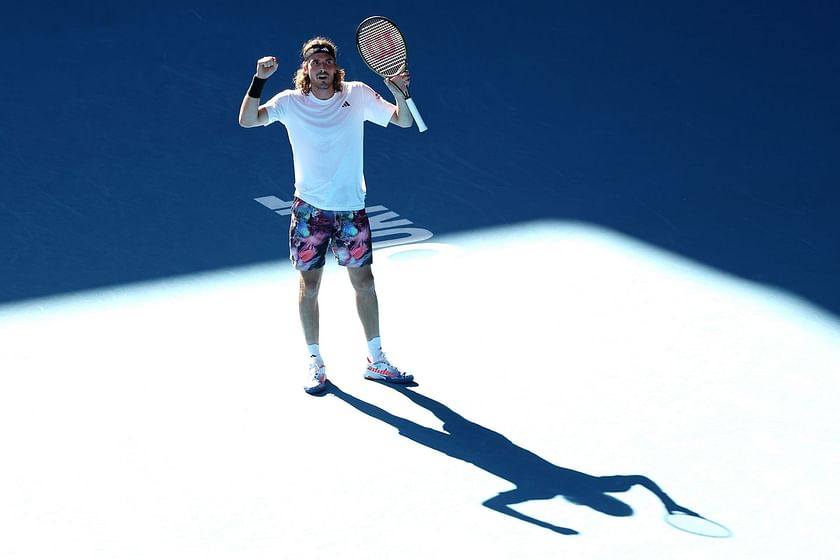 Stefanos Tsitsipas has already taken his win tally to double figures in 2023, registering his 10th win of the season against Khachanov, and is yet to lose a match.
He revealed that he was enjoying himself on the court and playing great tennis on his way to the final.
"I'm playing great tennis. I'm enjoying myself. I just see no downside or negativity in what I'm trying to do out there. Even if it doesn't work, I'm very optimistic and positive about any outcome, any opponent that I have to face," Stefanos Tsitsipas said.
"This is something that has been sort of lacking in my game. I genuinely believe in what I'm able to produce. That is more than enough. I go about this way. I do this with a lot of -- I strive for it every single day. It might not go the way I want it to, but I put 110% out there," he added.
Tsitsipas will face the winner of the second semifinal between Novak Djokovic and Tommy Paul in the final at Melbourne Park on Sunday.