Santiago Gonzalez was ecstatic after winning his first ATP Masters 1000 doubles title at the 2023 Miami Open on Saturday.
Gonzalez, 40, combined with 39-year-old Edouard Roger-Vasselin to beat Austin Krajicek and Nicolas Mahut in straight sets 7-6(4), 7-5 to reign supreme at the year's second Masters 1000 title. It was Gonzalez's first title in the tournament category and Roger-Vasselin's second.
Following the win in Florida, Gonzalez - the first Mexican player to contest the Miami title match - was glad to realize a longstanding dream. The occasion was made sweeter by the fact that he won his first Masters 1000 doubles title on his son's birthday.
The Mexican said after the win:
"It was my dream, of course. Lifting this kind of title, a Masters 1000. I'm 40 years old, I didn't have one, this is my first. I'm glad (it's) today. Today is my son's birthday, so I'm going to remember this day for the rest of my life and I'm very happy."
In a high-quality title match, Gonzalez and Roger-Vasselin - who started playing regularly as a team this season - were clinical on break points. They converted their second of the match, which was also championship point, to close out the 1-hour 44-minute win. In February, the Mexican-French pair won their first title as a team in Marseille.
---
"This is what we love; we've been doing this for our whole lives" - Santiago Gonzalez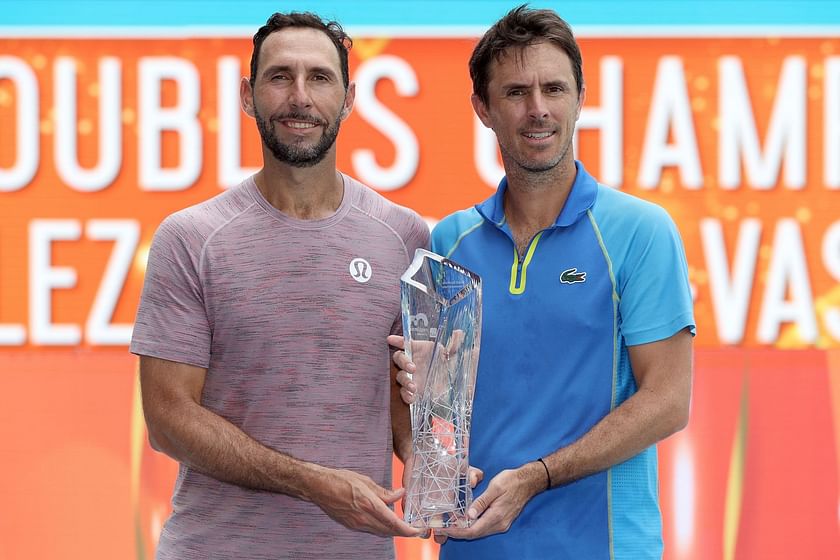 Following the pair's first big title, Santiago Gonzalez declared that they, like every doubles pair, get on the court with the intention of winning titles. The Mexican added that it is important for them to keep playing tennis now that their kids have started playing the sport as well.
"This is what we love," said Santiago Gonzalez. "We've been doing this for our whole lives, so of course we want to step on the court and win titles. We are old, yes, but we now (have children), who are starting to play tennis. It's good for them also to see Dad play on the main arena, so hopefully I can play a few more years."
Roger-Vasselin chimed in on the secret of their success together, saying:
"It's thanks to the golf. We are playing golf together. … That's the highlight of the week. But on the court, we fight from the first to the last ball, and we did pretty well for the last month. I'm really happy to lift another trophy. It's my second Masters 1000, but for sure it's always good to have a trophy like that."