Italian World No. 18 Lorenzo Musetti considers Carlos Alcaraz, his upcoming opponent in the fourth round of the French Open, as both a friend and an inspiration. Musetti credits Alcaraz's presence for motivating him to improve his game and temperament. The match between the two promising players will determine who advances to the quarter-finals.
Carlos Alcaraz has been in exceptional form on clay, winning 23 out of his 25 matches on the surface in 2023. He excels in adopting an aggressive baseline game, with his reliable and potent flat forehand being his preferred shot.
The World No. 1 is no slouch at the net either and isn't afraid to approach it. In his third-round French Open match against Denis Shapovalov, he converted 21 of the 29 net points that came his way, which is a whopping 72% success rate.
Lorenzo Musetti, on the other hand, relies on his single-handed backhand as his weapon of choice. His backhand is particularly effective when he incorporates slicing into his game. Musetti draws inspiration from his idol, Roger Federer, and adopts similar court coverage tactics. He is comfortable playing from both the baseline and the net.
The 18th-ranked Italian has a 12-8 win/loss record on clay in 2023 and also leads Carlos Alcaraz in their head-to-head, 1-0. Musetti got the better of Alcaraz in their sole meeting at the finals of the 2022 Hamburg Open, winning in three sets.
Carlos Alcaraz leads a new generation of tennis players and inspires him (Musetti), Holger, Jannik, and the rest of the field who look to catch up to the World N0. 1, said Musetti.
"I mean, for sure, I see a friend. I see that he started a way, a new generation. He's the first Grand Slam title after the big three, so I think it's sort of inspiration for us, for me, Holger, Jannik, and whoever is behind him, and trying to push him away and trying to get closer," declared Musetti speaking at his post-match press conference at Roland Garros on Friday.
Carlos Alcaraz and Lorenzo Musetti to clash at French Open fourth round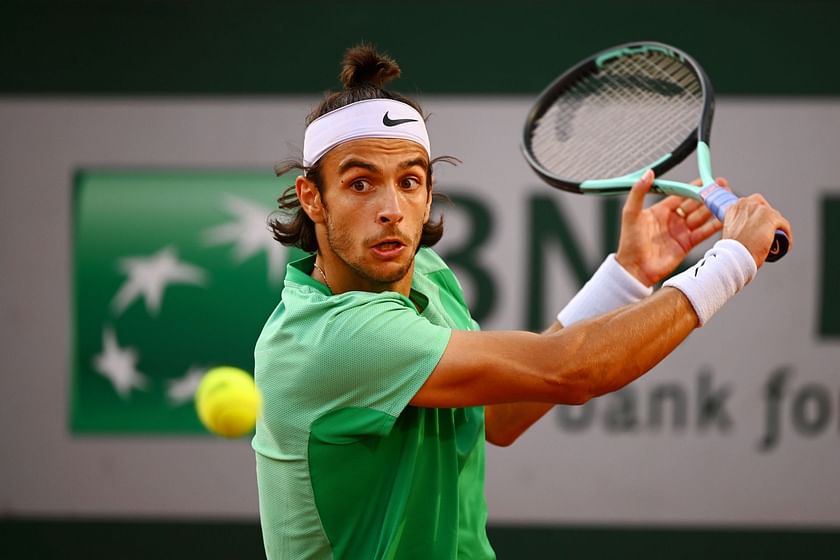 The Carlos Alcaraz freight train shows no sign of running out of steam as it makes its way down the Roland-Garros track. This was quite apparent as the top seed displayed total control over the proceedings of his third-round game against Denis Shapovalov, winning 6-1, 6-4, 6-2.
The two-hour, 10-minute match saw Shapovalov struggle with his serve, sending down ten double faults, winning only 51% of his first-serve points, and hitting 39 unforced errors, a setback from which there was no possibility of return.
Alcaraz was at his unrelenting best, hitting twenty-five winners and converting seven of his sixteen break points.
Lorenzo Musetti meanwhile ended the journey of Britsh No. 1, Cameron Norrie, handing him a straight-set defeat. He offered only brief resistance in the third set when he broke the Italian for the first time in the match before going down 6-1 6-2 6-4 in two hours and eight minutes on Court Simonne Mathieu. The Englishman's 49 unforced errors didn't do him any favors either.
With their respective wins, Alcaraz and Musetti are now slated to take on each other in the fourth round on Sunday. The Italian prevailed in their only previous meeting at the finals played on the clay courts of Hamburg.