The competitive spirit of a 20-year-old Novak Djokovic was apparent when the ailing Serb refused to show signs of weakness to his rival Rafael Nadal ahead of his first Wimbledon semifinal in 2007.
The young Djokovic was plagued by a blister and infection before his fifth meeting with Nadal that year, and he dropped at least a set in all but one of his five matches at SW19. Ahead of their first grasscourt clash at Wimbledon that year, Djokovic said that he tried to avoid Nadal despite meeting in the locker room, as he didn't want the Spaniard to sense weakness and gain a competitive advantage.
"Yeah, we did. But I was trying not to -- you know, there's a lot of people around me. I was trying to avoid him and his sight. I was just trying to get away and talk to the people there, you know. My intentions before the match were not to, you know, show him that I am weak, whatever, so he can be an advantage," he said.
Djokovic made a late decision to play the match and started brightly, taking the first set.
"Like I said, it was in question should I play or not, but I decided to go on the court. First set I played really, really good. Especially I served well. So service helps me to make the points shorter, and I was really aggressive. You know, it resulted with a win of the first set," he added.
But with his serve getting visibly weaker as the match wore on, Nadal opened up a 3-6, 6-1, 4-1 lead before the Serb retired.
"But, you know, afterwards, as soon as I dropped a little bit with the serve, you know, he used it," Djokovic stated.
Fast forward 16 years, and the World No. 2 is set to play his 12th Wimbledon semifinal against Jannik Sinner on Friday, July 14.
---
"I don't want to sound arrogant, but I would consider myself the favorite" - Novak Djokovic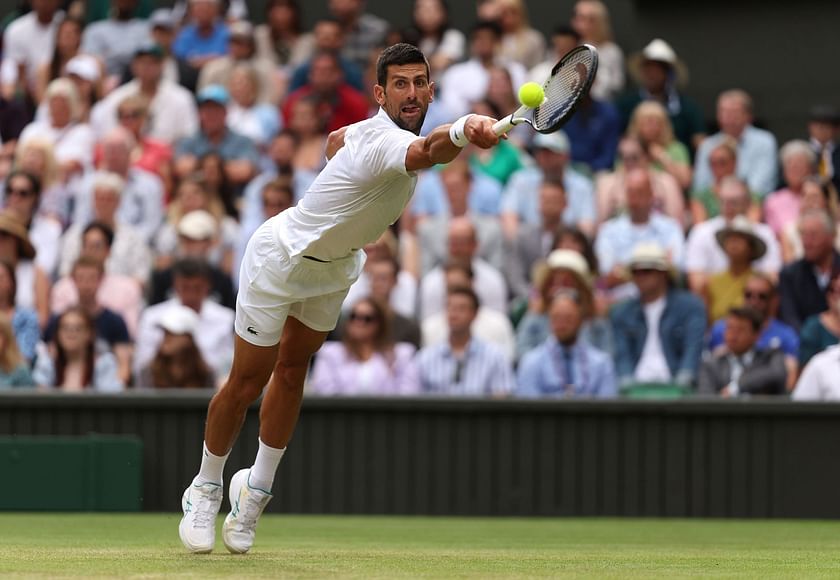 Novak Djokovic reached the fourth round at the 2023 Wimbledon Championships without dropping a set. The 23-time Grand Slam winner then needed four sets to see off Hubert Hurkacz and Andrey Rublev respectively in the Round of 16 and quarterfinals, respectively.
Against Rublev, Djokovic dropped the opening set but stormed back to take the next three to reach a record-equalling 46th Grand Slam semifinal. Sending out a warning to the rest of the field, the four-time defending champion said:
"I don't want to sound arrogant, but of course I would consider myself the favourite. Judging with the results I had in my career here, previous four occasions of Wimbledon that I won, I do consider (myself) the favourite."
The Serb hasn't lost at Wimbledon in 32 matches; the last time he did was to Tomas Berdych in the 2017 quarterfinals. Moreover, he hasn't lost at Centre Court since the 2013 final against Andy Murray.
What is the foot injury that has troubled Rafael Nadal over the years? Check here