Ben Shelton won on his Laver Cup debut, beating Arthur Fils in straight sets on Friday to give Team World their first point of the day. The American won 7-6(4), 6-1 to ensure that his team won the opening game of the tournament for the first time.
At his press conference, Shelton admitted that he was a little "nervy" at the start and that he felt like Fils was on top of the match by dictating the rhythm. However, the US Open semifinalist quickly noticed that there was no game clock at the Laver Cup, unlike in ATP tournaments.
That meant that he did not have just 25 seconds to get his serve in, which in turn led to him taking more time on his serve and calming down a bit.
"Yeah, I thought at the beginning of that match, I was a little nervy going from point to point. It felt fast and felt like, you know, he was playing well, and he was kind of on top of me, dictating points and kind of the rhythm of the match," Ben Shelton said.
"Then, you know, I kind of looked around to see if there was a game clock running out like usually we have at ATP tournaments. I didn't really -- I didn't see anything. So I started taking more time, and I was waiting to see if -- I mean, I don't think I was going over, like 25 seconds is normal, but I was waiting to see if I got a time violation, and nothing happened," he added.
At the same time, Ben Shelton made it clear that he was not purposefully looking to go "outside the rules" or slow down proceedings too much. However, the lack of shot clock helped the youngster by allowing him to change the pace of the match to his advantage.
"So maybe there is not a time clock in this event, which, you know, when I was down Love-30 and took a little bit more time in a couple service games.
"I thought it kind of helped me dial things in and change the rhythm a little bit of the match. Like I said, I wasn't trying to go outside the rules or go too slow, but just taking a little bit more time without seeing the clock run down I thought helped me," Ben Shelton said.
---
"I think the biggest thing in this environment is Ben Shelton's energy and attitude" - Team World vice-captain Patrick McEnroe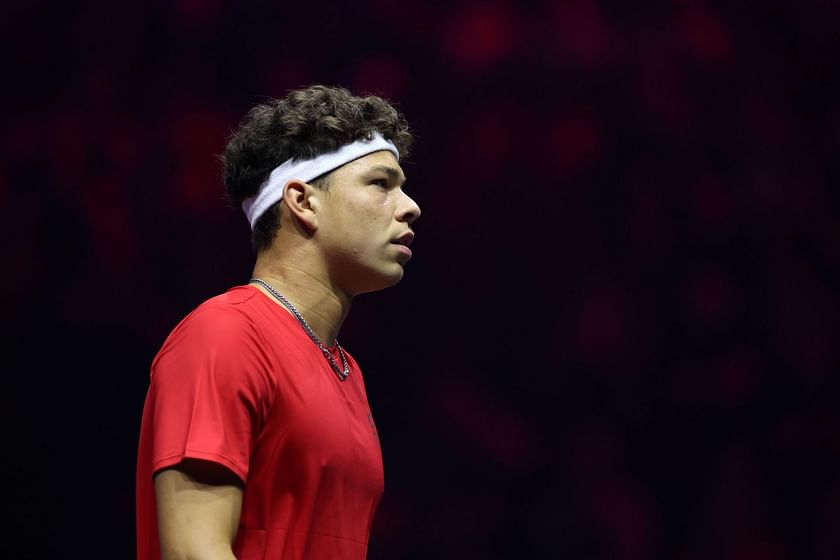 Team World vice-captain Patrick McEnroe lavished praise on Ben Shelton, saying that the player's energy and attitude made a big difference on the court and in the team.
McEnroe reckons Shelton's experience of playing college tennis also helped a lot. He hopes that Shelton would become a fixture in the team at the Laver Cup.
"I think I got a text from one of our kids at our academy after the match and said, He's going to be a fixture on the team for a long time, meaning Ben. I said, We can only hope," McEnroe said in the press conference.
"Because the obvious attributes he has as a player we all see on display on the court, but I think the biggest thing in this environment is his energy and attitude, and that's why we wanted him to be the first guy out to set the tone for the team, because he's got an incredible mentality and attitude for a team event. Obviously his college experience has a lot to do with that too. It was just a perfect -- that's the first time we have ever won the first match," he added.