Former World No. 1 Caroline Wozniacki continues her tradition of sharing glimpses of her personal life. Currently a mother of two, the Danish often posts pictures of her children, Olivia and James, on social media.
The former professional tennis player tied the knot with former NBA player David Lee in 2019. The 32-year-old, who hung up her tennis racquet in 2020, gave birth to her first child, Olivia Wozniacki Lee, in June 2021. A year later, Wozniacki became a mother for the second time in October 2022.
On Monday, the two-time US Open finalist uploaded two pictures of her children showcasing their "sibling love," wherein the Dane's older daughter had her youngest child wrapped in her arms in a love-filled embrace.
"Sibling love ❤️💙," Wozniacki captioned her tweet on Instagram.
Wozniacki has been quite active on social media, routinely giving glimpses of her and her kids' lives to her fans around the world. Most recently, she shared her daughter's sketches on the floor of their home.
"Olivia thinks drawing with chalk on our floor at home is the coolest thing ever," the former World No. 1 wrote.
A few days prior, Caroline Wozniacki posted a touching picture of herself and her baby James on a tennis court. The Dane held James in her arms, joking that only one of them takes their tennis seriously.
"One of us is very serious about their tennis! 🎾😜" Wozniacki wrote.
Earlier, the former World No. 1's daughter had "stolen" a piece of chocolate for herself while the two were at a celebration. The 2018 Australian Open winner made light of the fact that her daughter also enjoys chocolate and joked that she is, in fact, her daughter.
"I'm obsessed with her. Also, she smoothly walked over to the cake and stole chocolate off of it. She is my daughter," Wozniacki wrote on Instagram.
Caroline Wozniacki reflects on her rheumatoid arthritis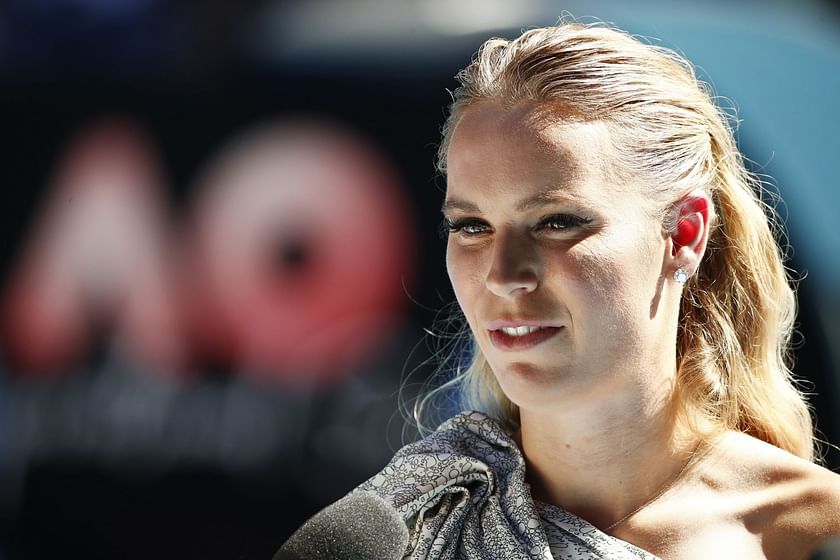 The former Grand Slam winner experienced rheumatoid arthritis at the tail end of her career and has since spoken openly about its effects and how to overcome it.
In a recent Q&A session on Instagram, the Dane updated her fans about how she has been coping with the disease. She assured her well-wishers that it is "controlled," and that she has been enjoying playing tennis recently.
"I have recently played more and enjoying it. My RA is pretty controlled at the moment," Caroline Wozniacki said on Instagram.