Christopher Eubanks recently spoke about his experience portraying Arthur Ashe in CNN documentary 'Citizen Ashe'.
Eubanks stunned fifth seed Stefano Tsitsipas on Monday, July 11, in a five-set battle to earn his maiden quarterfinals spot at the 2023 Wimbledon. Both players had powerful serves, with the American firing twelve aces against his opponent's eleven. After levelling the match in four see-saw sets, Eubanks turned the match in his favor in the decider set by converting crucial break points. He came out on top, 3-6, 7-6(4), 3-6, 6-4, 6-4 after three hours and four minutes of play.
Off-court, the American wears many hats, including working as an analyst for the Tennis Channel. The 27-year-old has also portrayed the legendary Arthur Ashe in two seperate documentaries.
Here is a clip from one of the documentaries that Christopher Eubanks shared on Twitter back in 2022:
When asked about his experience embodying the tennis icon in a post-match press conference, Eubanks said that it was a unique learning experience.
"To be able to portray him in that documentary was really, really cool. It was an experience not just doing film, which was a bit different, something I'd never done before, but also having to do the research that I did, having to go back and watch old film to try to get the technique down," he said.
The American said that he was very proud of the final documentary and was happy to be a part of it.
"It was also super, super rewarding when I got to see the final project. It was something that I take great pride in and I'm excited I was selected to be able to do it," he added.
Christopher Eubanks to clash with Daniil Medvedev in the quarterfinals of Wimbledon 2023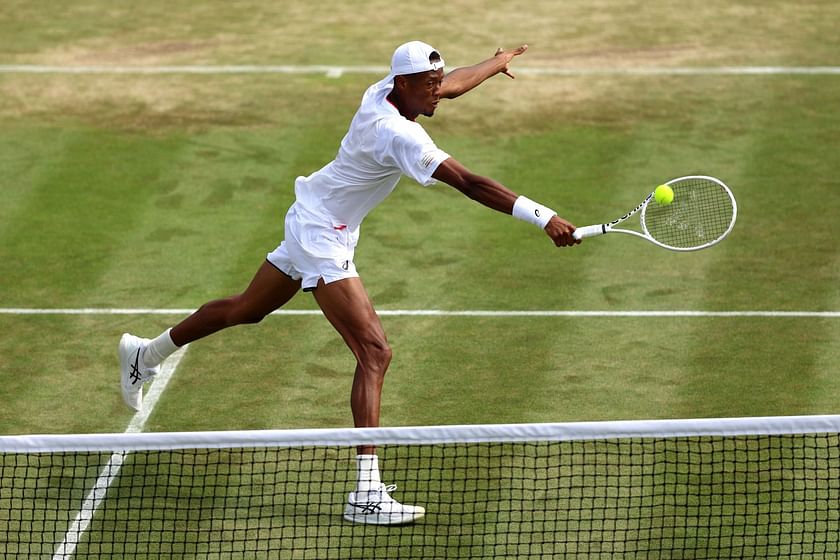 Christopher Eubanks with square off against Daniil Medvedev in the quarterfinals of the 2023 Wimbledon.
The American downed Thiago Monterio in the first round of the tournament before defeating twelfth seed Cameron Norrie in the second round and Christopher O'Connell in the third round.
Christopher Eubanks battled past Stefanos Tsitsipas in the fourth round to reach the quarterfinals of Wimbledon for the first time in his career, earning him a career-high ranking of World No. 43.
Meanwhile, Tsitsipas booked his quarterfinal spot after overcoming Arthur Fery and Adrian Mannarino in the first and second rounds respectively. He overcame Marton Fucsovics in the third round before a walkover in the fourth round, with Jiri Lehecka retiring due to injury.
Both player have only met once before on-court, in the quarterfinals of the 2023 Miami Open, where Medvedev emerged as the winner.
Edited by Siddharth Dhananjay