Karolina Pliskova recently reacted to the controversial moment in her round of 16 match against Maria Sakkari, where a shot hit by Pliskova did not make the line but touched Sakkari's racquet.
On Sakkari's serve in the eighth game of the third set, Pliskova returned a ball that was called 'out'. But Sakkari, who was at the net, seemingly touched the ball with the racquet, which should have given Pliskova the point.
Neither Sakkari nor the chair empire noticed this, and the point was awarded to Sakkari. No video replay was used while deciding the fate of the point either, which angered many fans.
The video replay telecast for viewers showed that Sakkari's racquet did indeed touch the ball. Sakkari ended up winning the match 6-4, 5-7, 6-3.
Pliskova took to Instagram later to thank the Indian Wells Open, before adding that she was off to the Miami Open which is slated to begin on March 23.
"Thanks IW, We bounce back, Offf to Miami babyyy," Pliskova captioned her post.
But one fan in the comments section brought up the racquet touch incident from Pliskova's match against Sakkari.
"Sakk def touched the racket on that one point," the fan commented.
Pliskova was quick to notice the comment and replied in the affirmative, with some sarcastic emojis. The fan then took to Twitter to share a screenshot of Pliskova's cheeky response.
"righttt," Pliskova responded.
Maria Sakkari to face Aryna Sabalenka in the semi-finals of the Indian Wells Open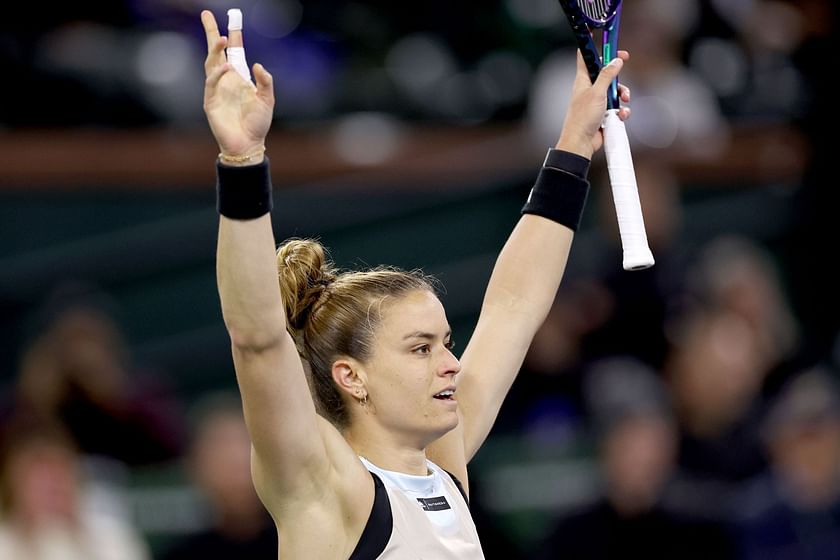 World No. 7 Maria Sakkari is through to the semi-finals at the BNP Paribas Open. She beat former Wimbledon champion Petra Kvitova in the quarter-finals 4-6, 7-5, 6-1.
On her way to the semi-finals, Sakkari has had to make numerous comebacks, earning her the name 'Comeback Queen' from fans.
Sakkari now faces World No. 2 Aryna Sabalenka in their semi-final clash on Saturday, March 18. The pair have met seven times before, with Sabalenka leading the head-to-head 4-3.
But the Greek has won their last two meetings, both coming in the first round of the WTA Finals. Last year Sakkari won 6-2, 6-4, and in the 2021 match-up, she triumphed 6-7, 7-6, 6-3.