Serena Williams' former coach Rennae Stubbs has called for Stefanos Tsitsipas to reconsider his coaching setup after the Greek's exit from the 2023 French Open.
On Tuesday, June 6, Tsitsipas suffered a straight-sets loss to Carlos Alcaraz in the quarterfinals in Paris. After managing to win only three games in the first and second sets, the Greek fought back from 2-5 down in the third. However, despite saving five match points in the next few games, he was unable to claim the set as Alcaraz clinched the tiebreak to record a 6-2, 6-1, 7-6(5) win.
During his post-match press conference, Tsitsipas talked about the Spaniard's performance during the match.
"He played great. I mean, I don't think he played exceptional, but he played great," Stefanos Tsitsipas said.
The World No. 5 attributed his less-than-ideal performance to his disrupted sleep schedule and the melatonin supplements he had to take as a result.
"One thing that I'm going to try to avoid in the future is have melatonin pills and naps before matches because it clearly doesn't seem to be working," he stated.
Tennis journalist Jose Morgado took to social media to summarize the Greek's words from his press conference.
"Tsitsipas' first answer in press. Says Alcaraz was "great, not exceptional" and that he will stop having naps before matches because that's not working," Morgado tweeted.
In response, Rennae Stubbs called for the 24-year-old to reconsider his coaching situation.
"Maybe he should consider his coaching situation," Stubbs tweeted.
On May 23, ahead of the 2023 French Open, Stefanos Tsitsipas split with his coach Mark Philippoussis after nearly a year together. Philippoussis joined the Greek's team as a co-coach, alongside Tsitsipas' father Apostolos, after the 2022 Wimbledon Championships.
Carlos Alcaraz extends his dominant head-to-head record over Stefanos Tsitsipas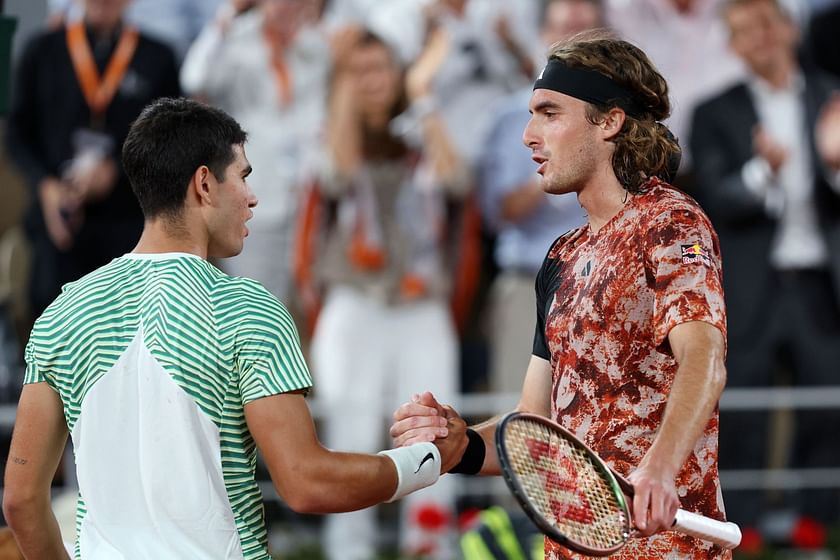 With his win in the 2023 French Open quarterfinal, Carlos Alcaraz extended his perfect record against Tsitsipas to 5-0. Alcaraz also improved to a 35-3 win/loss record for the season heading into the blockbuster semifinal clash with Novak Djokovic.
The semifinal on June 8 will mark the pair's second meeting on tour, after their encounter in the 2022 Madrid Open semifinals went Alcaraz's way. The Spaniard prevailed 6-7(5), 7-5, 7-6(5) in a closely contested match that lasted three hours and 38 minutes.
Should Alcaraz defeat Djokovic in the semifinal, he will retain the World No. 1 ranking at the end of the French Open. However, if the Serb emerges victorious, he will have the opportunity to reclaim the top spot by winning the title in Paris.