Former World No. 2 Barbora Krejcikova was involved in a rather hilarious moment during her winner's speech at the 2023 San Diego Open.
The Czech player entered the tournament on the back a four-match losing streak, including early exits at the Cincinnati Open and the 2023 US Open. She not only steadied the ship in San Diego, but also secured her second title of the year at the WTA 500 event.
After her hard-fought victory over Sofia Kenin in the final, Krejcikova shared a lighthearted moment during the trophy presentation. She was interrupted by the interviewer before she could conclude her speech but humorously clarified that she wasn't finished yet.
"No, no, no, no (laughing). I want to thank Pavel, he's right there we just started working together. I mean the first couple of weeks was really, really tough and I didn't do well, it was after my injury. But I'm really really happy that this tournament, we have the trophy right now," Barbora Krejcikova said.
The 27-year-old had been grappling with a leg injury that led her to withdraw from her second-round match at Wimbledon.
In her post-match interview, Krejcikova injected some humor by joking that she didn't have ample space in her bag to carry the trophies home. She then thanked the organisers and expressed her delight at winning the San Diego Open.
"Normally I wouldn't be here," said Barbora Krejcikova, who received a wild card to play in the tournament "I really want to thank them (the tournament organisers). It was very special. I really enjoyed my stay here."
"I don't know how I'm going to bring all these trophies back home because I only have three bags, but I'm really happy I won," she added.
The World No. 13 lauded her coach for standing by her during the challenging past couple of weeks, also extending her appreciation to her fitness trainer and family for their unwavering support from back home.
"I want to thank my coach for surviving with me and also everyone that is back home. My fitness coach and my dad are watching right now and even my brother," Barbora Krejcikova said.
Barbora Krejcikova does the double in San Diego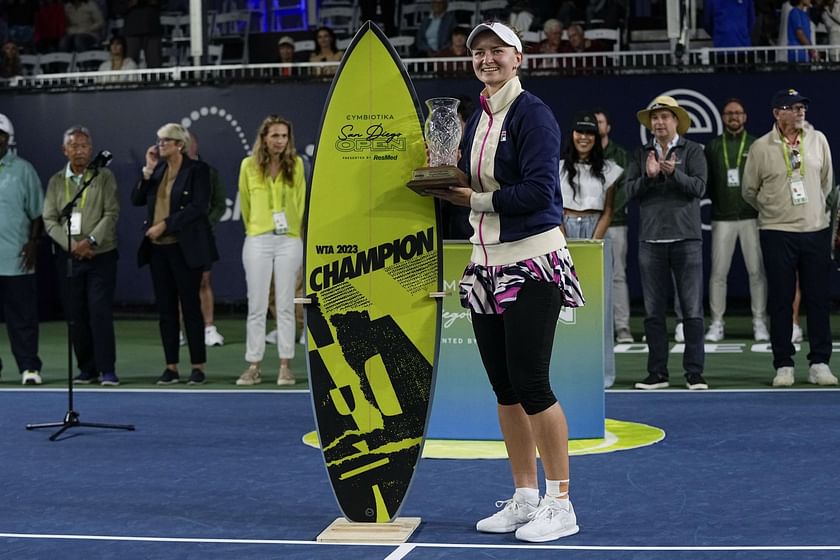 Barbora Krejcikova has had an exceptional week of tennis in San Diego. Apart from capturing the singles title, she also triumphed in the women's doubles, partnering alongside Katerina Siniakova. The top seeds cruised past the American pair of Danielle Collins and Coco Vandeweghe in the final, 6-1, 6-4.
This marks just the second occasion in Krejcikova's career where she clinched both the singles and doubles titles at a single event. The first instance was at the 2021 French Open, where she also teamed up with Siniakova in the doubles competition.