Renowned players such as Alexander Zverev and Cameron Norrie have hailed Rafael Nadal as the ultimate fighter on tour.
The Spaniard's unwavering determination, never-say-die attitude, and ability to find a way to win over the years have made him a force to be reckoned with. His dedication and commitment to his craft serve as a powerful inspiration for aspiring youngsters.
In a recent interview with ATP, the top players on tour such as Zverev, Norrie and Casper Ruud were asked who they think would be suitable for a gladiator fight. Their responses were quite unanimous as the majority opted for Rafael Nadal and described him as the biggest fighter on tour.
"Unreal competitior and I think he'll just find a way to get it done in the fight," Cameron Norrie said.
"He never gives up, he fights until the end of the last point, last moment, feel like he's the biggest fighter on tour," Alexander Zverev stated.
Rafael Nadal's tenacity and resilience have been evident throughout his career, solidifying his reputation as one of the greatest fighters in the sport of tennis.
His remarkable comeback victory against Daniil Medvedev in the 2022 Australian Open final was one such instance, where the Spaniard showed his mettle. It was the first time in Melbourne that a player rallied from a two-set deficit and captured the crown in a final since 1965.
While Zverev, Norrie and Thanasi Kokkinakis chose Nadal as their pick for a gladiator fight, 2022 French Open runner-up Casper Ruud opted for World No. 3 Novak Djokovic.
"I think Novak, I've seen him with Gerard Butler and they have this scream together about the movie Sparta. I think that was quite funny," Ruud said.
The players also voiced their opinion on who according to them could perform well as a footballer and join the Real Madrid Football Club. Once again the answers were titled towards Rafael Nadal. The Spaniard's love for football is nothing new and everyone is aware that he wished to be a footballer at a young age.
"Probably Nadal again, his favourite club in the world and he gets very emotional when they play, so it would be very entertaining to watch him play football with Real Madrid," Alexander Zverev said.
"I mean he's obviously a big fan I'm sure he could hook us up with good tickets as well," Casper Ruud replied cheekily.
---
Rafael Nadal undergoes successful hip surgery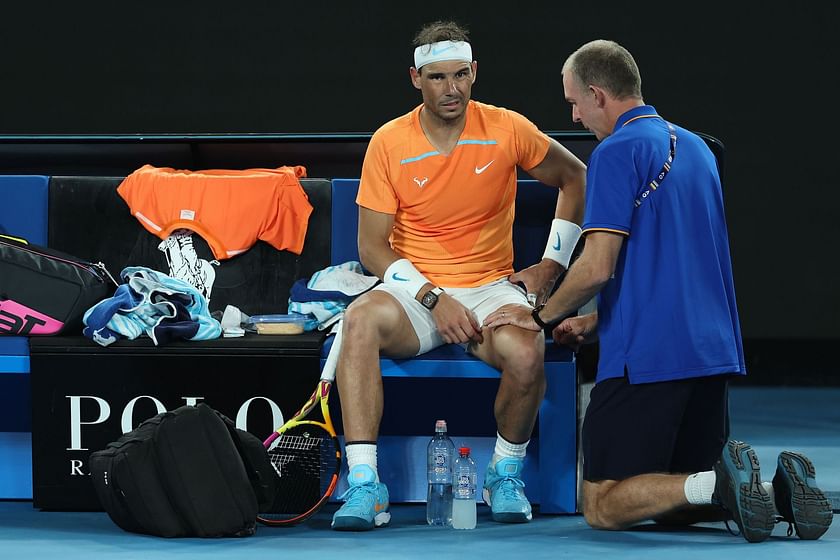 Rafael Nadal recently underwent hip surgery in Barcelona, which reportedly went well. The tennis star will now take approximately five months to recover.
Popular journalist Jon Wertheim shared the news on Twitter. He stated that Nadal's surgery went well and he is now on the road to recovery.
"Told Rafael Nadal's surgery 'went well.' Performed in Barcelona, chiefly by Marc Philippon of Steadman Clinic. Nadal Stitched up, heading home to celebrate 37th birthday; was given expected recovery time of five months," Wertheim tweeted.
With a projected five-month rehabilitation, it is highly likely that Nadal will return to action in 2023. However, there remains a possibility of his participation in the Davis Cup finals, scheduled from November 21-26.
Nadal initially planned to compete in this prestigious team event, and his recovery timeline could align with the tournament's timeframe. Fans will eagerly await Nadal's return to the court following his rehabilitation and wish him a swift and successful recovery.
What is the foot injury that has troubled Rafael Nadal over the years? Check here