Rafael Nadal's 2023 Australian Open exit has been followed by even worse news for the Spaniard, as he has now been diagnosed with a grade 2 injury to his left leg. Going for an MRI scan after his straight-sets defeat against Mackenzie McDonald in the second round, a tear in the iliopsoas muscle was discovered by his medical team, led by Dr. Ángel Ruiz Cotorro.
The injury, the exact physical ailment that forced the 22-time Grand Slam champion to retire from his quarterfinal encounter against Marin Cilic at the 2018 Australian Open, is expected to keep Nadal out of action for the next 6-8 weeks minimum.
Rafael Nadal made the announcement through his Twitter handle, adding that he will be seeking anti-inflammatory physiotherapy to facilitate a proper recovery.
"I have carried out medical tests after the defeat yesterday. The MRI shows a grade 2 lesion in the Iliacus Psoas of my left leg," he said. "Now it's sports rest and anti-inflammatory physiotherapy. Normal recovery time 6 to 8 weeks."
What that means is that the Mallorcan will have to skip the Dubai Tennis Championships in February, which he had signed up for before the Melbourne Major. Ideally, the World No. 2 could be back in time for the Sunshine Double in Indian Wells and Miami, but whether the 36-year-old will want to play those hardcourt tournaments immediately on his comeback remains to be seen.
More realistically, the former World No. 1 could return to action at the European Clay swing, taking a long-enough break to recover physically and ease his way through the tour on a surface he is more comfortable playing on. Interestingly, an injury suffered in Indian Wells last year forced Rafael Nadal to skip the start of the clay season, making him miss the Monte-Carlo Masters and the Barcelona Open.
---
"I like what I do, I like playing tennis" - Rafael Nadal after Australian Open exit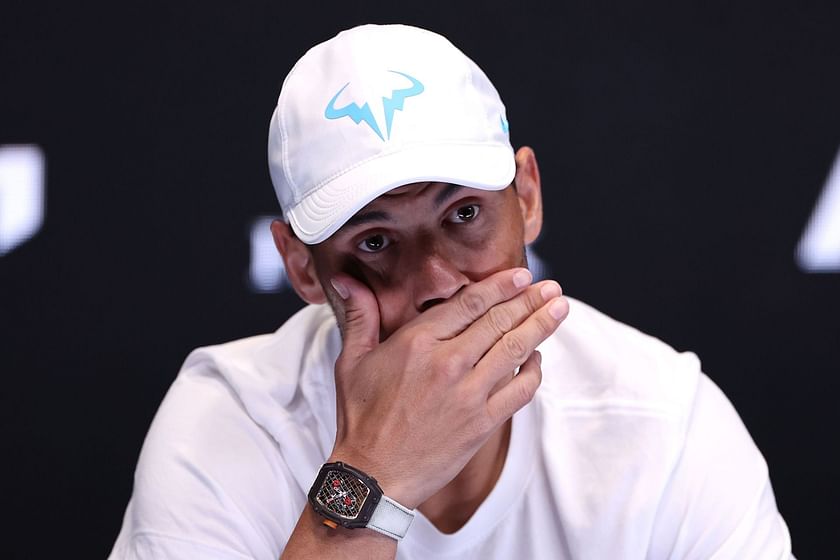 Speaking at his press conference after the loss against Mackenzie McDonald, Rafael Nadal had removed all doubts over his potential retirement, stating that he still liked tennis and being competitive on the court. That was where the Spaniard found the motivation every day to keep fighting, even if it meant he had to face painful losses every once in a while.
"I like what I do. I like playing tennis. I know it's not forever. I like to feel myself competitive. I like to fight for the things that I have been fighting for almost half of my life or even more," he said. "And that's it. It's not that complicated to understand, no?"
The 22-time Grand Slam champion also refused to use the word "sacrifice" in the context of his tennis career, remarking that he had always liked dedicating himself to the sport and that he hadn't given up on anything for it.
"Sacrifice is when you are doing things that you don't want to do, you know. And that was not my case," Nadal said. "But say that, of course it's tiring and frustrating to be a lot of part of my tennis career on recovering process and trying to fight against all this stuff all the time. But I accept it quite well during all my tennis career, and I was able to manage it well."
What is the foot injury that has troubled Rafael Nadal over the years? Check here