Men's tennis' Big 4 comprising Rafael Nadal, Novak Djokovic, Roger Federer and Andy Murray have separated themselves from the rest of the pack, particularly at the Grand Slams, because of their mental strength and demeanor on the court, believes Marin Cilic. The Croatian attributed the Big 4's dominance to their "killer instincts" and unparalleled attitude, coupled with sheer relentlessness.
Cilic is one of the very few to have won a Grand Slam singles title in the Federer-Nadal-Djokovic-Murray era of dominance, particularly the Big 3. While the likes of Cilic, Stan Wawrinka, Daniil Medvedev, and others over the years experienced what it takes to beat these greats of the sport at the Grand Slams, they were still unable to get the better of them consistently. That is still the case when it comes to Nadal and Djokovic.
Sharing his thoughts on their legacy, Cilic highlighted how the Big 4's ability to control matches mentally more than anything sets them apart.
"I think there is a slight difference competing, obviously there is, but there is mentally a difference competing in Grand Slams and competing in other tournaments because when you are entering best of five matches mentality needs to be there from the first point," Marin Cilic said in a press conference attended by Sportskeeda ahead of his 2023 Tata Open Maharashtra campaign.
"I think the guys that we've seen, Roger (Federer), Rafa (Nadal), Novak (Djokovic), even Andy (Murray) for many years, those guys were like with killer instincts and unprecedented with their attitude," he added. "Just you know, getting things done by being so sharp with their attitude to execute things, on that, you know, day to day, and day after day after day after day."
The 2014 US Open champion praised the "really, really incredible" Big 4 who he believes have been almost impossible to beat at the Grand Slams over the past decade-and-a-half, further stressing their prowess in all aspects of the sport.
"These guys (Nadal, Djokovic, Federer, Murray) had so much success with their game, their attitude, with everything. In Grand Slams they proved to be, in the last 15 years, almost impossible to beat. Why is that? It is just because of their game, but also they are laser focused to be able to do it on that day, on that surface. And they are sort of really really incredible," Cilic expressed.
The Croatian tennis great also opined that the tendency of many top players to be inconsistent at the Grand Slams often spells danger against the Big 3 particularly, who, more often than not, grab even the smallest window of opportunity provided by their opponents.
Cilic opined that for the Big 3, Nadal and Djokovic going forward as Federer has retired, that aspect will continue to give them a big edge.
"With those kinds of attitudes, it's very, very difficult to beat Novak, Rafa, Roger," Cilic continued. "Okay, now Roger is out, but still Rafa and Novak. They require from you to be at the top of your game throughout the whole match. And so that's I think that gives them the biggest edge."
---
Marin Cilic expresses great pride over matching Rafael Nadal, Novak Djokovic, Roger Federer, and Andy Murray's incredible achievements at Grand Slams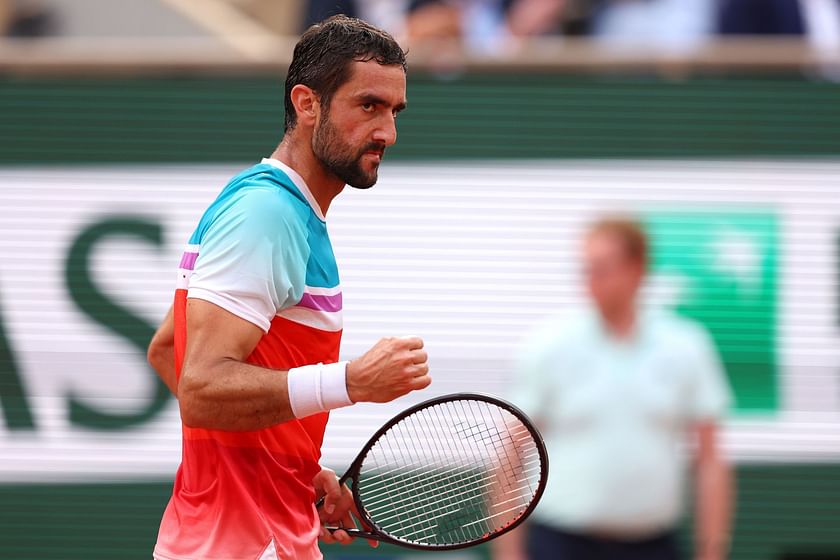 While Marin Cilic was already in an exclusive club of non-Big 4 Grand Slam champions over the last 20 years, he became the only player apart from the Big 4 to join another exclusive club during his impressive 2022 season.
By reaching the semifinals of the 2022 French Open, Cilic became the only active player other than Rafael Nadal, Novak Djokovic, Roger Federer, and Andy Murray to reach at least the semifinals at all four Grand Slam tournaments. With Federer's retirement, he is now among just four active players to have that feat in the bag.
The 34-year-old expressed pride in his incredible achievement and is thrilled by his record at the Grand Slams, the tournaments that matter most.
"It's an incredible achievement, when you look at the overall the career, my career in Grand Slams was fantastic," Marin Cilic said in response to a question from Sportskeeda about joining Nadal, Federer, Djokovic, and Murray in the unique stat.
"I'm so happy with my performances at all Grand Slams, I managed to play all of them really, really consistently well over the years. That was the pillar of my success."
After another stellar year at the Majors in 2022, during which he made a semifinal and a quarterfinal in three appearances, Cilic is now even more motivated to win big.
"It gives me great satisfaction and great motivation that I'm still able to do it and, you know, that there are openings for me still," he expressed.
What is the foot injury that has troubled Rafael Nadal over the years? Check here