Iga Swiatek recently reflected on her sensational run over the past two weeks in the Middle East. Swiatek successfully defended the 2023 Qatar Open title and earned a runner-up finish at the Dubai Tennis Championships.
The World No. 1, who was on a streak of quick finishes, created a record for fewest games conceded. She dropped just five games en route to the title in Qatar.
Iga Swiatek continued her spellbinding run of form in Dubai as well, and conceded just three games overall in her first two matches. But the 21-year-old, who was dealing with a cold, began to falter in her semifinal against Coco Gauff.
Despite being below par, Swiatek managed to get a hold of proceedings and secured a spot in the final with a 6-4, 6-2 victory. However, the World No. 1 yet again succumbed to the final challenge of Czech Barbora Krejcikova, losing 6-4, 6-2.
She had also faced a loss to the 2021 French Open champion last year, in the Ostrava final.
After taking a couple of days to reflect on her spectacular fortnight, Iga Swiatek put up a heartfelt post on social media. The Pole spoke frankly about the challenges she faced as well as the progress she made.
"Yesterday I was still in Dubai, today I'm in Warsaw, soon in Indian Wells… These last few weeks were intense, and challenging but we did a lot of good work and progress," Iga Swiatek wrote in her Instagram post.
Swiatek then congratulated Barbora Krejcikova on her win but also patted herself on the back for pulling through despite fighting an infection.
"I enjoyed tournaments in Doha and Dubai and even though I lost the final in Dubai (huuuuge congrats Barbora Krejcikova) my level was good despite the infection and I gave it all I could at the moment," Swiatek wrote.
The Pole then opened up about the mounting pressure of people's expectations. She remarked that despite her dominant display, she was still human and not a robot.
Swiatek lastly suggested that putting in the required effort was in her hands but the outcome of matches wasn't.
"I can see that some of you have higher expectations of me but well… I'm just human. I will keep my standards high, I will enjoy my time on tour and keep working hard. At the end of the day that is all I can control. My effort and engagement," Iga Swiatek said.
"Thank you all for the support and see you soon! #marathonnotsprint #notarobot," she concluded.
---
Iga Swiatek gears up for WTA 1000 events in the United States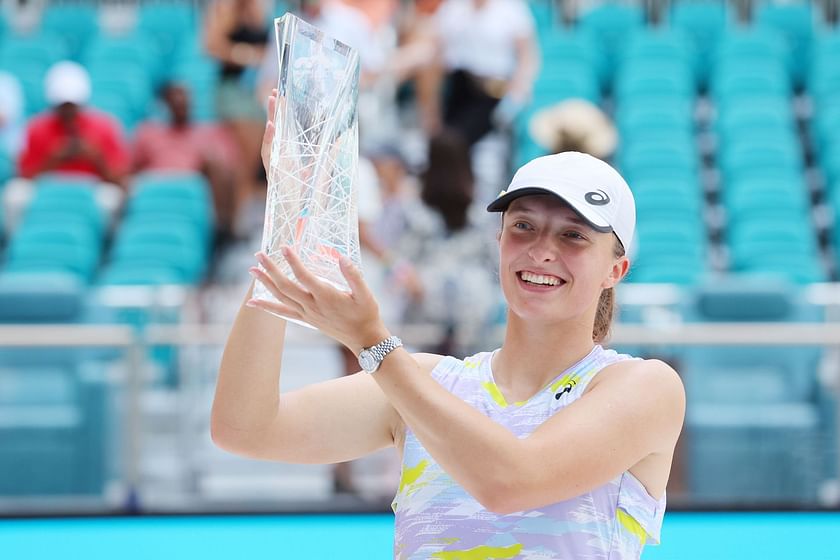 Among her many achievements in 2022, Iga Swiatek also lifted the WTA 1000 titles in Indian Wells and Miami. As the month of March nears, the massive task of defending the Sunshine Double titles lies ahead for the World No. 1.
The two tournaments will be even more significant for Swiatek now given that she failed to lift the first WTA 1000 title of the year in Dubai.
The 21-year-old will commence her title defense in the States at the Indian Wells Open, which is set to be held from March 6-19. This will be followed by the tournament in Miami between March 19 and April 2.