Team US, the most successful team in the history of the Davis Cup, has outperformed Uzbekistan to qualify for the Group Stage of the Davis Cup Finals, to be held in September 2023.
Considered to be the men's World Cup in tennis, the tournament's qualifying round between the two teams was played at the Olympic Tennis School in Uzbekistan's Tashkent on February 3 and 4. The USTA's lead player development national coach David Nainkin is the interim captain of Team US after Mardy Fish decided to discontinue his role at the beginning of January.
In a press conference after reaching the Group Stage, Nainkin expressed his joy but added that they were taking things step-by-step.
"It's one step at a time. The first step is to actually qualify and that's what we've done, but we don't really look further than that and well done to everybody that was involved in this process and we look forward to the next steps," Nainkin said.
Team US has the services of Tommy Paul, Rajeev Ram, and three Davis Cup debutants — Mackenzie McDonald, Denis Kudla, and Austin Krajicek. Jenson Brooksby withdrew earlier.
McDonald, who eliminated Rafael Nadal in the second round of the 2023 Australian Open, gave the US their first point by defeating World No. 366 Sergey Fomin 6-4, 6-1.
Tommy Paul then beat Khumoyun Sultanov 6-1, 7-6(6) before Ram and Krajicek defeated Sanjar Fayziev and Fomin 6-2, 6-4 in the doubles encounter. Finally, 30-year-old Kudla downed Amir Milushev 6-4, 6-4 for the US to finish 4-0 against Uzbekistan.
---
"It was like two freight trains" - David Nainkin on Rajeev Ram and Austin Krajicek after winning Davis Cup qualifiers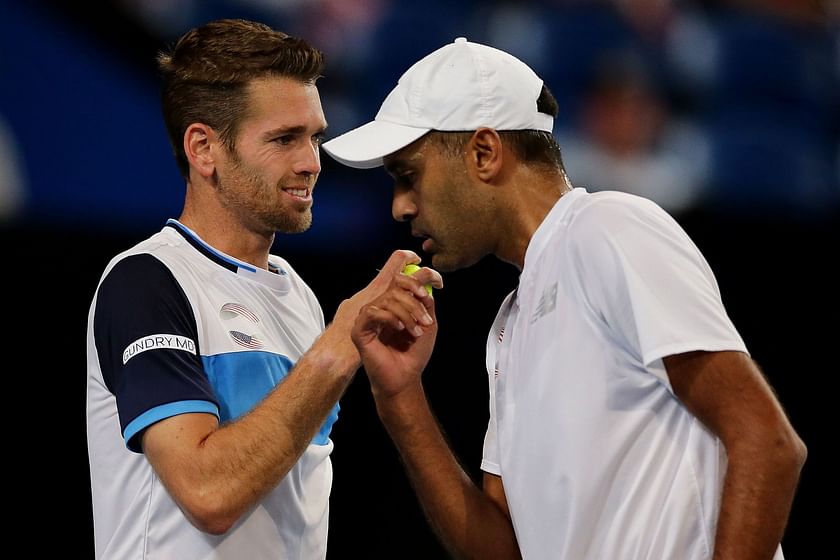 Doubles World No. 3 Rajeev Ram and World No. 9 Austin Krajicek defeated Sanjar Fayziev and Fomin 6-2, 6-4 in the doubles encounter when the US took on Uzbekistan in the Davis Cup qualifiers. US Captain David Nainkin spoke highly of the doubles pair in a press conference, comparing them to unstoppable freight trains.
"I was excited to see Raj and Austin play today," Nainkin said. "They've practiced well all week, they had five great days of preparation and as anticipated, they came out really sharp and got the early break in the first set. After that, it was like two freight trains. There was no stopping them."
Former doubles World No. 1 Ram heaped praise on the lower-ranked Uzbekistan players for their fighting spirit.
"Ranking-wise, they're the underdogs, they're not the favorites in this match. But even in the singles, they tried their best and they really fought until the end and that's a pretty good quality to have. It helps you even maybe win some matches you're not supposed to win," Ram said.
Edited by Sudeshna Banerjee