Victoria Azarenka is having a great time in Paris with her seven-year-old son and "best friend" Leo.
Azarenka, who is currently ranked World No. 18, is preparing for the French Open, which starts on May 28. The two-time Grand Slam champion has never won the clay-court major, but she reached the semifinals in 2013. She is also a former World No. 1 and an Olympic gold medalist.
The 33-year-old has been vocal about balancing her tennis career and motherhood and has faced some challenges along the way. She was involved in a custody battle with her ex-partner Billy McKeague over Leo in 2017, which forced her to miss several tournaments.
However, Azarenka has always put her son first and has expressed her gratitude for having him in her life. She often posts pictures and videos of Leo on social media, showing their close bond and playful moments. She also brings him to some of her matches and practices.
On Saturday, May 27, Azarenka posted a series of photos on Instagram, where she and Leo are seen enjoying various attractions in Paris.
"From Paris with my best friend ❤️," Azarenka captioned the post.
Azarenka and Canadian player Bianca Andreescu will face each other in the first round of the 2023 French Open on May 28. This will be their first meeting on the main tour. Both players are former Grand Slam champions and potential title contenders at Roland Garros.
The match promises to be an exciting duel between two players with an aggressive and varied style of play. Azarenka has an excellent return of serve and a solid backhand, while Andreescu has a powerful forehand and a subtle touch. Both players are also known for their fighting spirit and competitive attitude.
---
Victoria Azarenka attends Stanley Cup playoffs with her son Leo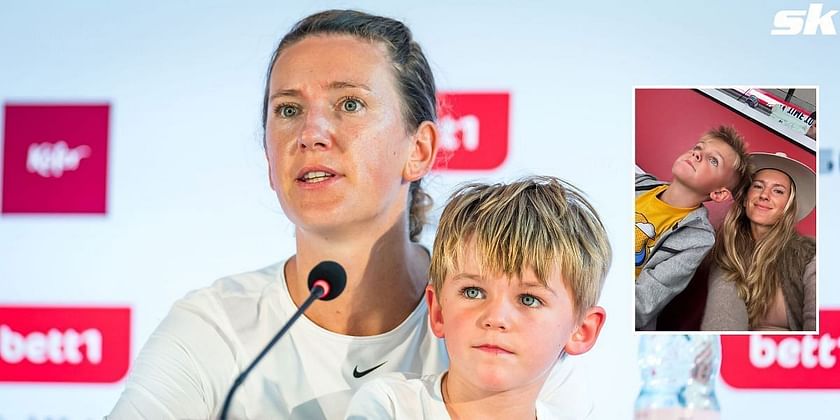 Victoria Azarenka and her son Leo attended the Stanley Cup playoff game between the Boston Bruins and the Florida Panthers. The game was held at the FLA Live Arena in Sunshine, Florida on Friday (April 21).
The Bruins took an early lead and managed to secure a 4-2 victory over the Panthers in Game 3 of their playoff series. The Panthers tried to stage a comeback in the final minutes, but they could not overcome the deficit.
Azarenka shared her experience on social media. She posted a selfie with Leo and a photo of herself wearing a cap that had the logos of both the Bruins and the Panthers.
"Making memories with the kid @NHL," wrote Azarenka on her tweet.
Azarenka is an ardent follower of the NHL; she and Leo also attended the NHL All-Star game in February. The annual event witnessed some of the best-known figures in the NHL link-up in Florida.
Taking to social media at the time, Azarenka reflected on her experience with joy.
"We love sports. All-star weekend with Leo. Thank you NHL, we had a lot of fun," she tweeted.
Edited by Shubham Banerjee