On the third day of the 2023 Australian Open, Jason Kubler and Karen Khachanov engaged in a grueling rally which neither man seemed ready to concede.
The marathon 70-shot rally came on Khachanov's serve at 5-4, 30-40 in the second set at John Cain Arena, with the Russian having taken the first set. The rally eventually ended with a Kubler backhand hitting the net chord and falling close on Khachanov's side of the net, with the Russian at the baseline.
Suffice to say, it is bound to be one of the contenders for the rally of the Australian Open as the two players slugged it out.
The 90-second rally was well short of Jean Hepner and Vicky Nelson putting up a scarcely believable 630-shot rally in 1984 that lasted a whopping 29 minutes. However, the Kubler-Khachanov rally fell just one stroke shy of Gilles Simon-Gael Monfils' 71-shot rally in 2013, a record at the Australian Open.
Here's the video of Kubler breaking Khachanov after a marathon 70-shot rally at the very end of the second set:
Kubler eventually broke back as Khachanov squandered an opportunity to go two sets up. The Australian soon restored parity by taking the second set 7-5.
However, the 18th-seeded Khachanov reasserted his ascendancy, conceding just six games to book his spot in the third round at Melbourne Park for the fifth straight year.
On a day when top seed and defending champion Rafael Nadal bit the dust against McKenzie McDonald, Khachanov booked a third-round clash against 16th seed Frances Tiafoe.
---
Karen Khachanov's 2023 season so far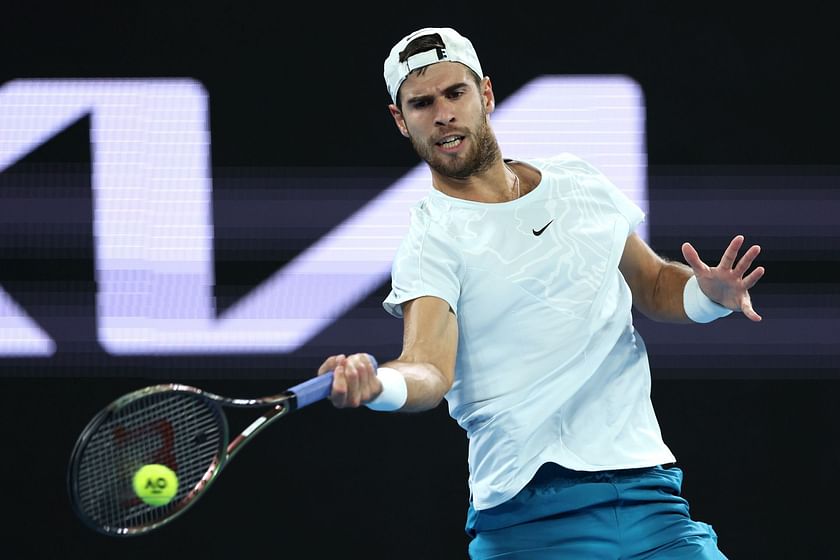 Karen Khachanov has had a decent start to his 2023 season. He started the campaign by making the quarterfinals of the Adelaide 1 international, losing to third seed Daniil Medvedev in straight sets.
On his next stop at the Adelaide 2 international, Khachanov once again lost in the quarterfinals in straight sets, this time against the left-handed Jack Draper. Draper notably lost to Nadal in the first round at Melbourne Park earlier this week despite putting up a stern fight.
With his win over Kubler, Khachanov has improved to 12-6 at the first Grand Slam of the year. The Russian has stumbled in the third round at Melbourne Park in four straight years.
At this round last year, he lost to Nadal in four sets.
Karen Khachanov had his best Grand Slam performance at the 2022 US Open, making the semifinals in a run he would love to repeat at Melbourne Park.