Victoria Azarenka's recent revelation about her difficult relationship with former coach Sam Sumyk has drawn strong reactions from tennis fans.
Sumyk began coaching Azarenka in 2010 after parting ways with Vera Zvonareva. Under the Frenchman's tutelage, the 33-year-old won consecutive Australian Open titles in 2012 and 2013 and also claimed the World No. 1 ranking. Their partnership came to an end in 2015 after the Belarusian endured an injury-plagued 2014 season.
In an interview with Simon Jordan on his podcast 'Up Front with Simon Jordan,' Azarenka reflected on her negative experience of working with Sumyk.
"My coach at that time, not the greatest person I would say. Kind of isolated me a little to be able to control me and manipulate in a way. Also, had to have one voice that had to be his," Victoria Azarenka said. "There's a lot of people who make you feel like you can't do anything without them, that it's all them."
Referring to the Frenchman as a narcissistic and controlling person, the former World No. 1 recalled that their partnership came to an abrupt end when she refused to comply with his requests.
"Interesting thing when you're dealing with narcissistic people, controlling people, when they feeling like they no longer have control over you, they leave. And that's what happened. I remember the moment when he asked me to do something and I was like 'no, I'd rather do that'. And literally like a month and half later he disappeared," she said.
Azarenka described her uncomfortable experience with Sumyk as a "very good lesson learned."
"I was sad at first then but then I was like 'thank you.' And I could see that happen to other people and I was like 'lesson learned.' Not the most comfortable lesson but a very good lesson learned," she added.
Following his split with Victoria Azarenka, Sumyk went on to coach Eugenie Bouchard for seven months in 2015. He then struck up a partnership with Garbine Muguruza, guiding her to victory at the 2016 French Open and 2017 Wimbledon Championships, as well as the World No. 1 ranking. The pair split after Wimbledon 2019.
Fans online voiced their opinions on Azarenka's comments and discussed Surmyk's allegedly toxic behaviour. One fan asserted that Muguruza's supporters had already harboured similar suspicions about Sumyk.
"Vika and Garbi are one of the toughest players on the tour, imo and the fact that he was able to bring them down so much. Everything vika is saying about him, we garbi fans suspected we were witnessing it in garbi as well. Scary stuff," the fan tweeted.
"I feel bad now for Genie being accused of being the problem when she went on a big slump with him in 2015," another fan chimed in.
Here are a few more fan reactions:
"He was always making it my fault" - Victoria Azarenka on ex-coach Sam Sumyk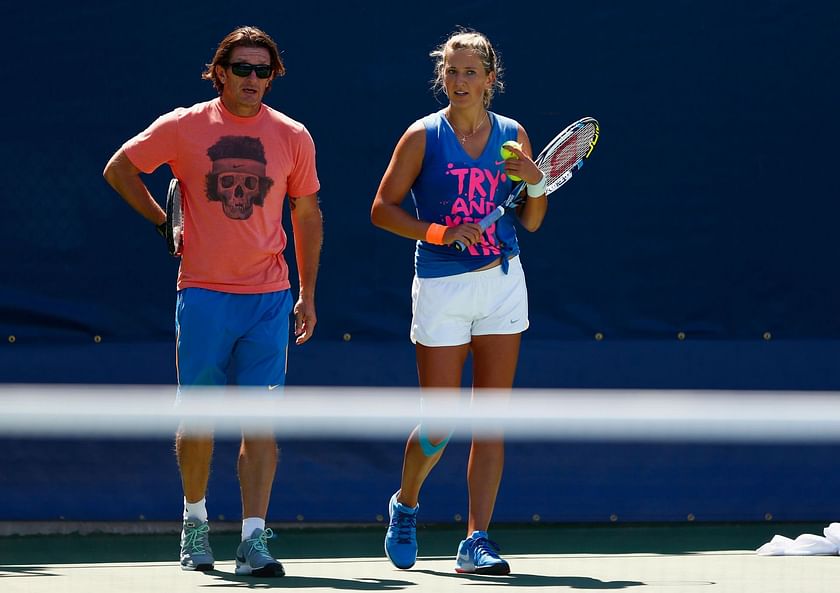 Victoria Azarenka stated that she realized Sam Sumyk did not have her best interests at heart when he urged her to play through injury in order to claim a monetary bonus.
"I realized when I had a long injury. I had to go play when I didn't want to. Oh no, you have to play here because for some coaches, you get a bonus when you play a tournament. I just wanted to take a break. So, I started to have some of these injuries because if I didn't play I felt guilty. He was always making it my fault," she said.
The Belarusian disclosed that she began to regain control over her situation after she spent time in Paris during an extended injury layoff in 2014. She also began working with a psychologist to address her feelings of depression.
In other news, Victoria Azarenka's campaign at the 2023 Wimbledon Champioships came to an end after she fell to Elina Svitolina 6-2, 4-6, 6-7(9) in the fourth round.
Edited by Siddharth Dhananjay