Daniil Medvedev and Stefanos Tsitsipas' seemingly cold exchange when crossing paths at the Italian Open has left tennis fans in stitches.
Medvedev and Tsitsipas have a fierce rivalry on and off the court. At the 2022 Australian Open, the former famously accused the latter of receiving illegal coaching from his father.
Their rivalry has continued into the 2023 season as well. Medvedev took a jibe at the World No. 5 in Dubai for his previous comments on Andrey Rublev.
Medvedev and Tsitsipas' historically contentious relationship was in the limelight once again as a clip of the pair crossing paths on the walkway at the Italian Open started making rounds on the internet. The two players appeared to deliberately disregard each other's presence as they passed by each other.
Several fans claimed that Medvedev appeared to feign a wave to somebody in the crowd in order to avoid interacting with Tsitsipas.
"Medvedev pretending to wave to someone to avoid making eye contact with our gorgeous hero Stefanos," a fan commented.
"Not Medvedev waving to imaginary someone just to make himself busy," another fan chimed in.
"When you bump into your ex at the street," one user tweeted.
Here are some more fan reactions:
---
Daniil Medvedev and Stefanos Tsitsipas both affected by rain delays at Italian Open 2023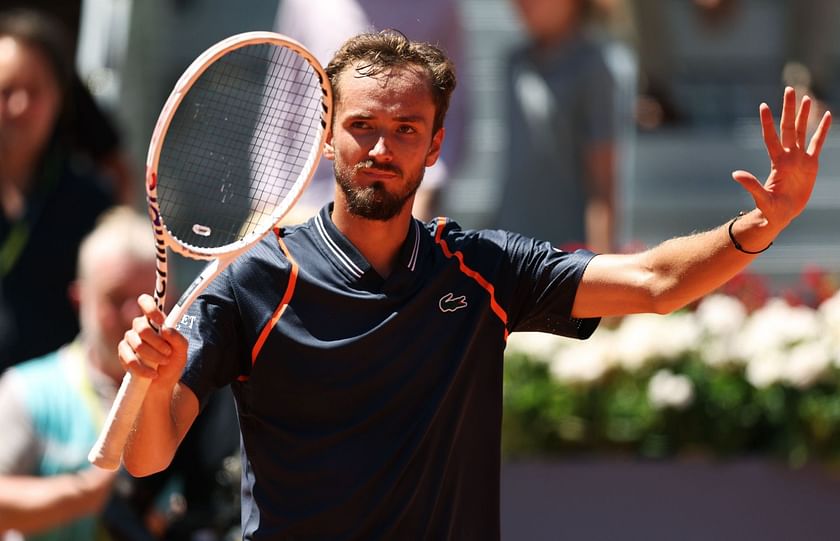 A rain delay played spoilsport in Rome during Stefanos Tsitsipas' tournament opener against Nuno Borges. The Greek currently leads 6-3, 4-3 in the match, which is scheduled to resume on Sunday, May 14.
Tsitsipas is defending points from his run to the Italian Open final last year. Novak Djokovic defeated Tsitsipas 6-0, 7-6(5) in the title clash to record his sixth Rome Masters triumph.
Daniil Medvedev also suffered the adverse effects of the rain delay as his second-round clash against Emil Ruusuvuori was pushed back too. The World No. 3 did not feature in the tournament in 2022 as he was recovering from a hernia surgery.
Medvedev currently holds a 33-5 win/loss record for the season, with four titles to his name. Meanwhile, Tsitsipas has a 23-7 win/loss record but is yet to notch up his first title of the season.
Medvedev leads 7-4 in his head-to-head against Tsitsipas. However, it was the Greek who came out on top in their two most recent encounters, at the 2022 Cincinnati Masters and the ATP Finals.