Ben Shelton has continued his magnificent run at the 2023 Australian Open, reaching the fourth round of a Grand Slam for the first time in his career. Playing only the second Major of his budding career, the American defeated giant killer Alexei Popyrin 6-3, 7-6(4), 6-4 in straight sets to book his spot in the second week.
More interestingly, this is Shelton's first trip abroad as a professional. He had played all his tennis previously in the United States, and still managed to break into the Top-100 of the ATP rankings.
Supporting the 20-year-old every step of the way have been his parents, Bryan and Lisa Shelton, as well as his girlfriend Anna Hall.
Without further ado, here is everything you need to know about the American sensation's support system:
Who are Ben Shelton's parents?
Born to Bryan and Lisa Shelton in 2002, Ben Shelton is the son of parents who are no strangers to the world of tennis. Bryan Shelton is a former ATP player, having risen as high as World No. 55 in singles and World No. 52 in doubles.
In singles, the farthest he went in Grand Slams was at Wimbledon, where he reached the fourth round in 1994. Shelton Sr. ended his career with two tour titles to his name.
Later, in 1999, he became the coach of the Georgia Tech Yellow Jackets women's tennis team and led them to the second round of the NCAA (National Collegiate Athletic Association) tournament in his first year. Bryan won three ACC (Atlantic Coach Conference) awards for the best coach of the year and helped the Yellow Jackets win the NCAA championship in 2007 -- their first win of such magnitude.
In 2012, he left Georgia for Florida, accepting a job as the head coach of the Florida Gators men's tennis team. Shelton Sr. led them to the NCAA championship title in 2021, becoming the first coach to have won an NCAA Division I title with both the men's and the women's teams.
Incidentally, his son also played tennis for the Florida Gators before turning pro in 2022.
Lisa Shelton, meanwhile, was a promising junior tennis player herself, but changing interests made her switch to becoming a realtor instead. Her brother, Todd Witsken, is a former ATP player as well, having been ranked as high as World No. 4 in doubles (12 titles) and World No. 43 in singles.
Ben Shelton has a sister named Emma, who also plays tennis for Florida.
Who is Ben Shelton's girlfriend?
Anna Hall and Ben Shelton began dating in 2021, as revealed by Hall on her Instagram account later. A heptathlete of national repute, Hall won the 2022 USA Outdoor Track and Field Championships.
The win earned her qualification to the World Athletics Championships, where she won a bronze medal. Hall is also a two-time NCAA champion, representing the University of Florida and a seven-time NCAA Division I All-American.
Speaking in an interview last year, Shelton joked about how he is not even the best athlete in his relationship. He went on to sing his girlfriend's praises for how she motivates him to better himself.
"Yeah [she's an exceptional athlete and better than me], she got a bronze medal at the World Championships this year and she definitely keeps me humble. I'm not even the best athlete in my relationship. So, [that's] something to work on," Shelton said. "Yeah [we can push each other], it's definitely really cool. We're kind of going through the same process."
"He was happy overall" - Ben Shelton on speaking with his father after reaching the fourth round of the Australian Open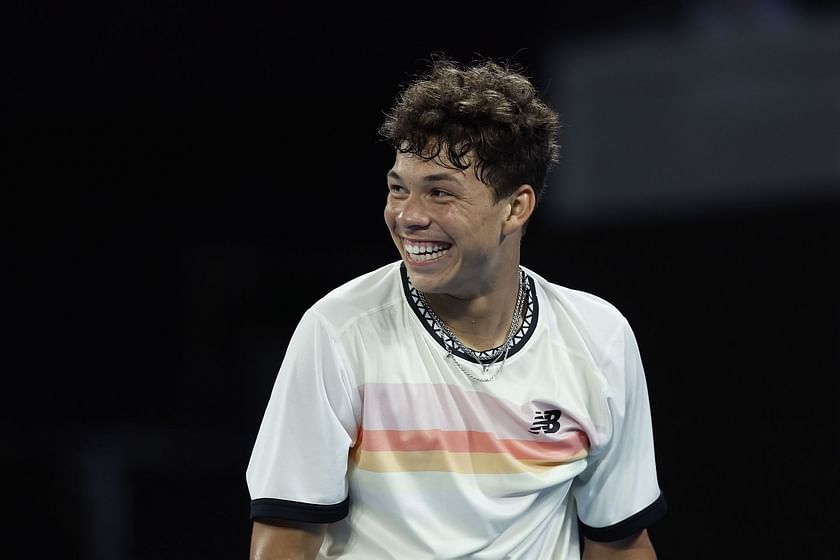 In his press conference after reaching the fourth round, Ben Shelton revealed that he spoke to his father immediately after, even though it was early morning back home. The American joked about how his father couldn't help but analyze his game on the night, but added that he was still very happy to see his son reach the second week of a Grand Slam.
"Well, first, he was definitely excited. It's, like, 5:40 there, and they have a match today, the team it does. So I think I messed up his sleep schedule a little bit," Shelton said. "He still has his analytical mind going and talked to me about the things that I did really well today and the few things that I could have done a bit better. So, yeah, he was happy overall."
In the next round, Ben Shelton will take on countryman JJ Wolf.