Petrova edges Stosur in see-saw thriller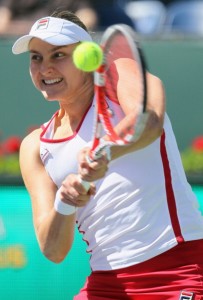 Returning to the US hardcourts for the first time since capturing the US Open last season, Samantha Stosur must have been apprehensive of the name Nadia Petrova lurking in her part of the draw. The last time they met was in the third round of the 2011 US Open, where each wore down the other in a match that entered the history books as the longest recorded US Open women's singles match. Stosur eventually went on to win her first Slam and Petrova was left in agony.
At 29, Petrova is in the twilight of her career and retirement may be knocking on the door in a couple of years. She has managed to score just two wins so far this year but that hasn't been able to wipe off the Russian's sheer determination. Knowing that she would get an opportunity to exact revenge against the Grand Slam winning Aussie at the prestigious BNP Paribas Open, her resolve only hardened.
And when such pugnacious players meet how can the match be short of any drama? Throughout the first set the ball seemed to obey whatever the former World No. 3 Russian commanded. Petrova rushed out of the blocks firing deadly aces, hitting relentless down the line backhands that magically kissed the lines each time, rushing to the net and hitting shots at vicious angles. She was, simply put, imperious. In 30 minutes, the score stood 6-1 in her favour.
The second set began like a replica of the first and the 6th seed Aussie was staring down the barrel at 1-3. Petrova didn't seem likely to flinch and Stosur didn't seem likely to find her range.
And then it all began. In a tournament where many players are being tormented by an airborne virus and are being compelled to withdraw, these two began tormenting each other with their screaming groundstrokes. Stosur suddenly flickered back to life. Her dreaded kickserve working, her ruthless topspin inside-out forehand dictating rallies, Stosur started finding the form that made her a Major winner.
While the 30th seed Petrova's serve was slowly losing its shine, Stosur unleashed her backhand slices at will and stormed back into the match which headed to a second set tiebreak. With neither player wanting to give up the initiative, the tiebreak was a nervy affair; the former World No. 4 Aussie drew on her experience to eke out a win after having saved a match point.
Petrova had beaten Stosur four times before and so she certainly knew what was required of her to put Sam on the ropes again after a prep up from her coach during the changeover. But it all seemed to head towards the wrong course when it was Sam who drew first blood, breaking serve with her consistent barrage of heavy spinning forehands that sent Nadia off balance.
A couple of minutes later though, a poor service game put them on par. Two more exchange of breaks later, it was tough to single out any one as the winner and the script headed towards the conclusion – a tiebreak. The tie-break seemed to stir the Russian back into action and even though Stosur fought back, an expensive forehand error from her handed victory to Petrova on her third match point after 2 hours 46 minutes.
The scoreboard showed an impressive 15 aces and 71% 1st serve points won by Petrova which proved that she was playing with a lot of conviction, and confirmed her desire to get back to the Top 10 once again.
Petrova plays fellow Russian Maria Kirilenko in the fourth round.