Race for No.2 heats up as the Joker inches closer
740 //
14 Mar 2011, 16:17 IST
It is the first Masters 1000 tournament of the season. No doubt, the world No.3 Novak Djokovic is relishing probably the golden era of his tennis career when he is yet to lose a match in this season. The reigning Australian Open and Dubai champion is the overwhelming favorite to triumph in this big event too. Wait, did someone forget the World No.1 , Rafael Nadal and the 16 times Grand Slam champion Roger Federer? The Spanish matador is fresh off his injury and would be raring to be back to his winning ways. And Roger Federer? Can he be ever written off? After losing past three matches to Novak Djokovic , he is suddenly on the verge of losing his No. 2 ranking to the Serb. Either of the three conditions would be sufficient for the Serb to knock Federer off No.2 in the South African Airways ranking after the tournament gets over.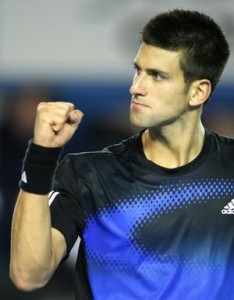 1) Novak wins the tournament and he would be the new No.2
2)Djokovic reaches the final and Federer fails to do the same.
3)Djokovic reaches the semis and Federer falters before the quarters.
To regain No.1 ranking is, among others, one of the goals for the Swiss maestro this year. And with Djokovic ready to pounce on the No.2 ranking , each loss would distance the champion from his set goal. It's no secret that the invincible aura or the golden era, whatever you call it has come to an end. Even the tagged "arrogant" Federer would admit it. But he is just 30 and even he feels he has a couple of Slams left in him before he calls it a day. He has definitely got the motivation to turn the tables on the Serb forgetting his recent losses but this is tennis, a sport. When you start faltering , you end up on the wrong side of the matches, on the wrong side of the rankings.To bounce back is easier said than done. And this is where Federer has got a point to prove as why is termed as a "champion",  "a man still feared on the tour", and of course not to forget, a "16 times Grand Slam holder"(way ahead of his rivals on the tour). Federer needs to up his ante with each match, with each tournament not to earn points but to remind the rest of the field that "ROGER FEDERER" is the still the force to reckon with when it comes to big events.