On 17th October 2010, a visitor from Spain made a quick stop at Anantapur, Andra Pradesh. It wasn't just any visitor; it was 14-time Grand Slam winner Rafael Nadal flew down to inaugurate the Rafael Nadal Tennis Academy. The 'King of Clay' came with a mission: to help under-privileged children by providing them with education through academics and tennis.
Today marks the fourth anniversary of the academy. Over the years, thousands of children have learnt the sport, the English language and become better students. They have inculcated all the values taught by the coaches and teachers as well as those taught the game of tennis.
Tennis, which is usually considered as a high-society sport, was made accessible to children with very low resources. Almost all of the children at the academy get to see and hold a tennis racquet for the first time in their lives.
With the help of the Rural Development Trust (RDT), the academy helps children from Anantapur as well as nearby villages by taking care of all their needs. The academy is a part of the Anantapur sports village, built on a 40 acres land donated by RDT.
Nadal ensures the children receive everything
To successfully run such an ambitious project requires high-level and constant funding. This is where the Spanish superstar steps in and provides the financial backing. Every year, Nadal pumps in nearly Rs. 50 lakh. And every single rupee is properly spent to help the children become better citizens.
Over 150 children from Anantapur and nearby villages are currently enrolled in the academy. While some drop out with time, there are many who practise daily on the courts. Every child is provided with clothes, socks, shoes, tennis racquets, tennis balls and other education material.
Two buses are operated to transport children from nearby schools to the academy. All the coaches and staff at the academy are also paid by Nadal.
Top-level facilities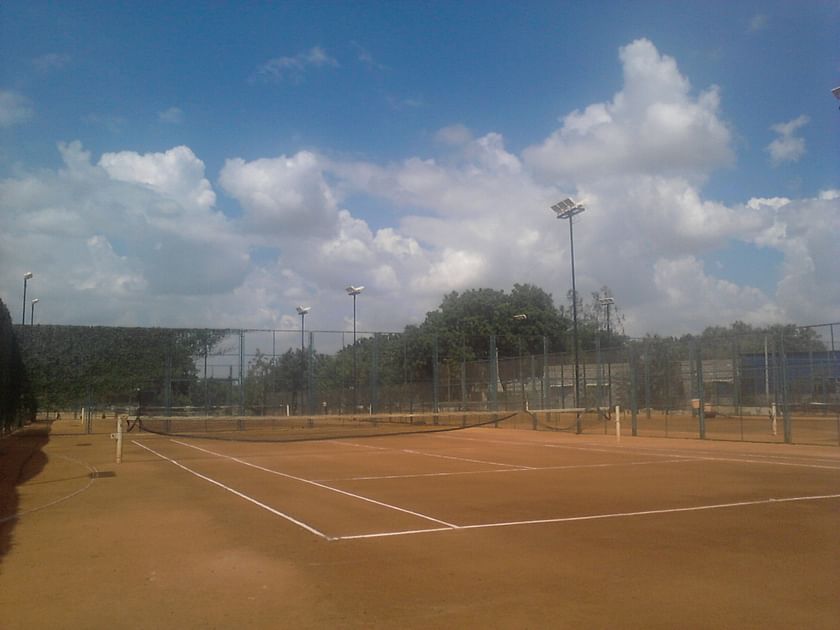 The children are given the best playing conditions. Five international standard clay courts with floodlights were built and are maintained daily (watered, rolled and lined). There is also a 40m tennis wall for children to practise and train.
A water-cooler makes sure that the children are hydrated at all times. Babolat racquets and good quality tennis balls are used to bring out the best amongst the children.
Overall development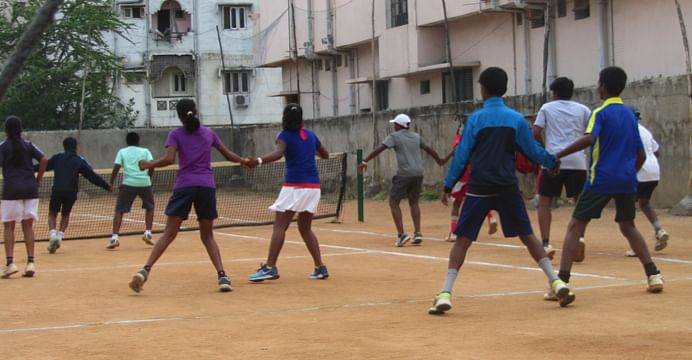 The academy seeks to bring about overall development of the children, and tennis plays an important part in this. The coaches ensure the children study as well. Computer labs and English classes are conducted every day. The children, previously unaware of what a computer was, now know how to write a letter, create Excel sheets and get information on the internet.
Tennis co-ordinator Raduan El Chouaibi Sanchez of Spain ensures that all the needs of the children are met. Nutritional information and dietary assistance are also provided by the academy. Spanish fitness trainer Miquel conducts innovative and fun training drills to help children become healthier and learn to enjoy exercising.
With two-hour morning and evening sessions, every one of the 150 children gets ample time to play, learn and exercise at the academy. "We have different batches of 8-12 children. One batch on every court, one batch doing fitness under Miquel, one batch studying English and one in the computer lab," Raduan said.
Tennis levels – From amateur to tournaments
The academy began with children holding a tennis racquet for the first time in their lives. Since 2010, several players have shown promising signs and even participated in All India Tennis Federation (AITA) challenger series tournaments.
The children are categorised into three levels based on their abilities. Pre-tennis level (5-6 years-old), regular (6-13 years-old) and AITA level (12-18 years-old).
13-year-old D. Pallavi is their finest player so far. Pallavi has won two tournaments and has been congratulated by former Indian cricket player Mohammad Kaif for her achievements. Pallavi's most incredible achievement is that in just under three years of tennis, she has managed to play against experienced players from big cities.
"In the match, despite the result, you can see Pallavi can challenge against girls who have played tennis since they were 5 and 6-years-old. Pallavi started playing when she was 10. It is incredible how she is naturally so good at the game," Raduan said.
Teaching English for better communication
Raduan, Miguel and other Spanish trainers that have coached the children, make it a point that English is the only language spoken at the courts. This helps the children to get better and more confident with the language.
When Raduan first visited the courts in January, it was a different situation. "When I first came to coach, the children's communication was only 10 percent in English. It was difficult for them to understand me and for me to understand them. But now about 70 percent of the conversations are in English," Raduan said.
More than just tennis
The Anantapur sports village is famous for Nadal's academy, but there are also other top quality facilities here. The village boasts two hockey fields, a grass football field and a gymnasium along with the tennis courts. RDT and Rafael Nadal Foundation have come together for a wonderful humanitarian cause.
After four completed years of the tennis academy, Nadal, his foundation and RDT must be proud about helping hundreds of children by giving them an opportunity at a better life.
What is the foot injury that has troubled Rafael Nadal over the years? Check here