Rafael Nadal believes the combined dominance displayed by the trio of himself, Roger Federer, and Novak Djokovic is almost impossible to produce two generations in a row.
In saying so, Nadal suggested that the 'next-gen' of men's tennis, namely Carlos Alcaraz, Holger Rune, Casper Ruud, and Felix Auger-Aliassime, among others, will not see two or more players each winning 20 or more Grand Slam singles titles.
Most of the top players in the latest generation of rising stars have aged well on their side. Alcaraz and Rune are still only 19, as Nadal was when he won his first Grand Slam title, while Auger-Aliassime and Ruud are also only in their early 20s.
The age factor and abundance of talent in the next-gen are not in doubt whatsoever. However, Nadal believes that the Big 3's achievement of winning a combined 63 Grand Slams between them, and potentially more, while playing in the same era is an even bigger deal than it seems.
Nadal is cautious enough not to rule out the possibility altogether. But he stressed that the "logical perspective" says otherwise.
"I can't predict the future. Some of the names that you named, they are super good...If we start talking about achieving 22 Grand Slams, 21, 20, I mean, it's a big deal," Nadal said in a press conference ahead of the 2023 Australian Open.
"That can happen, yes. Why not?" he added. "But at the same time never happened in the past. Will not be easy that happen two generations in a row. That's just putting the logical perspective on the room, no?"
The 22-time Grand Slam champion reiterated that the likes of Alcaraz and Rune, among others, are highly talented players who he believes will certainly win many big tournaments, including Slams. However, he suggested that only time will tell whether they can match the almost impenetrable numbers put together by the Big 3.
"They are super good. They're going to have amazing career. They're going to win slams. They're going to win a lot of tournaments, yes," the Spaniard continued.
"Some of them, I can't be sure, but I'm almost sure not two players of this generation going to achieve 20, 21, and 22 Grand Slams," he stated further. "If someone can reach that number - maybe - going to be difficult, they have a lot of things to do in front. But you never know what can happen."
---
"We lose a little bit the perspective how difficult is all of this" - Rafael Nadal on his, Roger Federer, and Novak Djokovic's achievements at Grand Slams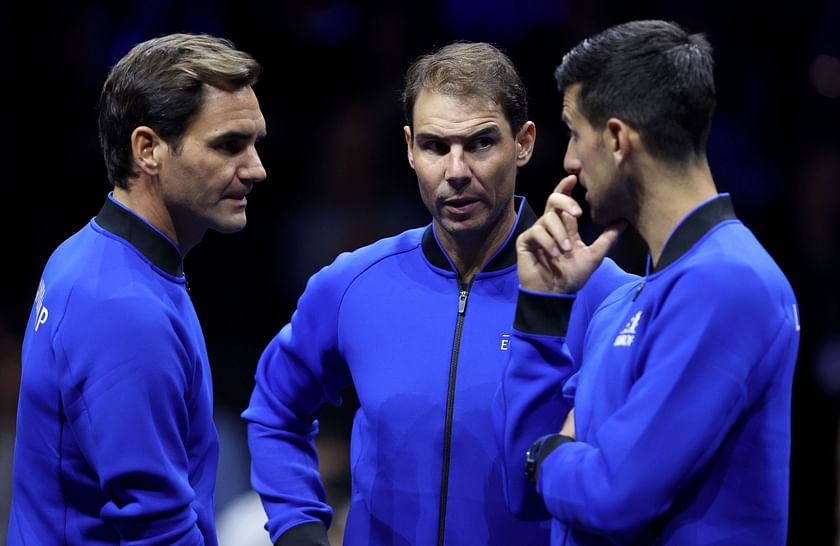 Rafael Nadal believes that the fact that three different players in himself, Roger Federer, and Novak Djokovic, have achieved such combined success at the Grand Slams often makes their achievements look a bit easier than they are.
The Spanish great stressed that producing such numbers at the highest level of the sport takes more than just talent. He also highlighted that there are multiple other factors involved as well that can change the course of players' lives and careers.
Having said that, he further stated that expecting the next-gen to emulate the Big 3 is "unfairly" pressurizing for the younger lot.
"I mean, probably because have been three players that achieved that much, we lose a little bit the perspective how difficult is all of this, no? We are here playing tennis at the age of 36, and you need to have a very, very long career. Injuries are there. Circumstances in life," Nadal explained.
"Don't talk about the level of tennis because that's probably a thing you can have it, but then there is a lot of different facts in the life that can happen that makes this situation or these results difficult.
"No doubt about the potential they have, but the circumstances in life to put the pressure on their shoulders to achieve these kind of numbers, I don't think it's fair," he added.
One of the next-gen superstars, current world no.1 Carlos Alcaraz, who won his maiden Grand Slam at the 2022 US Open, has already faced one of those "circumstances in life" Nadal spoke of. The 19-year-old was forced to withdraw from the 2023 Australian Open due to a sudden leg injury.
What is the foot injury that has troubled Rafael Nadal over the years? Check here