Rafael Nadal looked in complete control in his straight sets victory over Mikhail Youzhny
1.59K //
19 Jan 2015, 14:59 IST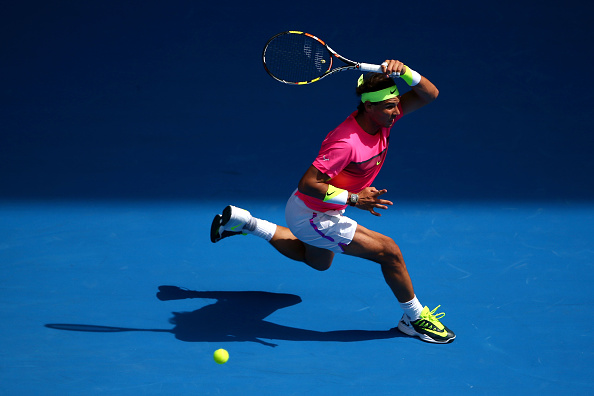 Round 1: Rafael Nadal def. Mikhail Youzhny 6-3 6-2 6-2
Rafeal Nadal returned to Grand Slam tennis with a bang, as he brushed aside concerns of poor form, injuries and a strong opponent aside, comprehensively defeating Russian Mikhail Youzhny in straight sets, 6-3, 6-2, 6-2. It was just the kind of result Nadal and his fans would have expected, as he was spot on in the execution of his game plan.
First Set
After Nadal chose to receive, Youzhny started with a strong opening service game and held to love. Nadal won his first point of the match with a brilliantly controlled rally, which was 26 shots long and brought the crowd to its feet. His forehand didn't have the killer instinct yet, but he was moving around well, early on. He won his first game with a forehand down the line, and one could sense the confidence in his strokes.
Both players held serve, again, with Nadal serving particularly well. He drew first blood in the next game. With some aggressive shots, he reached break point on Youzhny's serve and though he saved it, Nadal was relentless and broke him, with a brilliant passing shot.
Youzhny put Nadal under pressure, by reaching break point, but the Spaniard saved it with a composed overhead shot. He consolidated the break with an ace, leading 4-2. The Russian held serve with some good returns as well, as the set reached the business end. Nadal wasted no time, as he broke Youzhny for the second time, to take the first set 6-3.
Second Set
The World No.3 continued his form in the second set, running Youzhny around and holding to love in his opening service game. Nadal just squeezed Youzhny in his service game, as he repeatedly bludgeoned his forehand on both sides. He broke him at love to take a 2-0 lead. He extended it to 12 points in a row with another wonderful service game, and it was all one way traffic at Rod Laver Arena.
Youzhny got on the scoreboard, with a brilliant backhand shot, but the task ahead was still mountainous at this point. Nadal had his fourth love hold service game of the set, as Youzhny couldn't find any gaps, and made unforced errors.
Nadal continued to dominate proceedings, even as Youzhny managed to hold on to his serve. His angles, his court coverage, service game and returns were all in order. A significant part of whether Nadal is in form is if his forehand down the line is on target and it was hitting the line 9 out of 10 times. He put the pressure on Youzhny's serve at 5-2, smacking his second serves back with interest. He reached set point again, and though Youzhny saved the first one, he had no option but to hit a weak return to the net on the second, giving Nadal the set 6-2.
Third Set
Youzhny didn't look like he was going to mount any comeback as Nadal started the third set with a love hold. His returns were exquisite and full of power and precision.
At 1-1, the World no.3 made an unbelievable retrieve, exasperating Youzhny. He continued his jaw dropping returns, as the crowd roared in delight. The extent of the Russian's discomfiture was evident, when he celebrated just winning a point against Nadal. Youzhny was under pressure, serving down at 1-2, but played wonderfully, to stay on serve by winning three points on the trot, roaring on each one, as he gave his all.
There was no let down from Nadal though. He was serving as well as he did in the first two sets and looked like he could do it all day.
What was most encouraging to see was, in contrast to his match in Doha, Nadal's overall game had improved, as he made fewer unforced errors, more winners and had better court positioning. It was 5-2, and as the previous two sets, Nadal reached two break points, which were two match points on Youzhny's serve. He won it in the first attempt with a brilliant volley at the net, and completed the formalities with a commanding performance.
Nadal happy with the effort
Nadal seemed to be pleased with his performance too. "I think I returned well. My return worked really well. The serve, too. I served, I think, the right way, with only one breakpoint during the whole match. And in general I played with not many mistakes. I didn't have lot of mistakes, but is true that when I am defending, I can arrive with little bit more confidence and try to hit the ball longer", he said in his post-match interview.
Nadal could make a deep run at this tournament, if he continues to play this way. He faces American Tim Smyczek in the second round.