Rafael Nadal is still the favourite to win the 2015 French Open
1.99K //
08 May 2015, 14:45 IST
Has there ever been a more perceptible threat to Rafael Nadal's continued dominance at French Open? It is hard to say if the Spaniard, who has nine French Open titles under his belt, of which he won five on the trot in the years, 2010-14, is chafing under the nigh unbearable weight of expectations. His prowess on clay, which has, the near superhuman exploits of Bjorn Borg notwithstanding, is clearly on the wane.
A numbing loss to Fabio Fognini in the third-round of the Barcelona Open, an event that he has won a staggering eight times, one that came close on the heels of a straight-sets defeat to Novak Djokovic at Monte Carlo, has sparked off debates across the tennis community, with many lending voice to their suspicions of Nadal's continued domination at Roland Garros.
The ability to weather off the most obstinate storms and emerge triumphant is the true hallmark of a champion and Nadal has shown, on more occasions than one, that he is more than capable of accomplishing that. Not just tennis, but sport in general, has seldom come across a player who possesses the almost inhuman will, not to mention his obduracy that Nadal does.
However, as the cliché goes, history has this almost inveterate tendency to repeat itself and Nadal fans, who are most likely to be seeking some form of solace given their idol's near horrid season this year, will definitely get it if they peruse the Spaniard's past records, where he has succeeded in shrugging off shaky starts and emerging victorious in Paris.
Nadal's recovery in 2013
In 2013, Nadal returned to competitive tennis at the Chile Open in the South American clay-court season after having been laid low by an injury for 222 days. The Spaniard lost in the final of the tournament to Horacio Zeballos.
However, Nadal recovered from his loss at Chile to win the Indian Wells Masters before succumbing to his first loss at Monte Carlo Masters, where he had a whopping eight titles, to Djokovic in straight sets. The loss at Monte Carlo was a reminder of the Serb's constantly improving technique on clay. But, Nadal, unfazed by the loss to Djokovic went on to win the Rome and Madrid Masters to head into the French Open on the back of a mixed season.
Nadal had to take a slightly unfamiliar route to the Roland Garros final in 2013, as he was put to the test by Daniel Brands in the very first round and then by Martin Klizan in the second, with both players managing to take a set from the Spaniard. Shaking off these slightly sluggish starts, Nadal then progressed to the semi-finals without dropping a set in the next three matches to set-up what was clearly the match of the tournament.
Nadal and Djokovic faced off in what was the virtual final of 2013 French Open to play a riveting five setter that stretched to over four and a half hours. The Spaniard prevailed to sail through to the final, where he hardly broke a sweat to beat David Ferrer.
Nadal's 2013 season, one to which he returned following a long hiatus and lost two clay-court tournaments and yet prevailed to win the French Open crown attests to his ability to recover from shaky starts to emerge the winner at Roland Garros.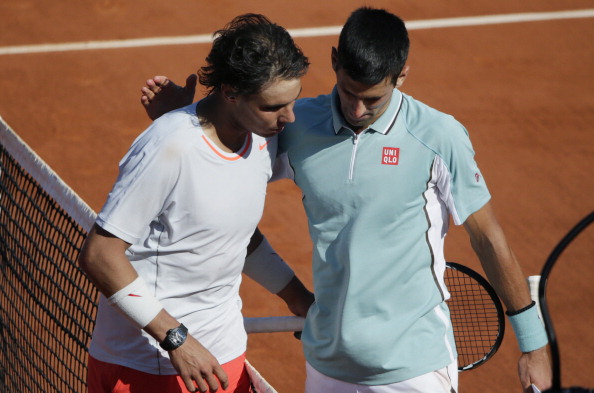 Five-set contests at Roland Garros
That Djokovic has been immensely successful against Nadal on clay in recent times is undeniable. Following his win against Nadal at Monte Carlo in 2013, Djokovic succeeded in wrenching the Italian Open crown away from Nadal in '14. This year, Nadal was shown no mercy by a relentless Djokovic who dispatched him in straight sets in the semi-final of the Monte Carlo Masters.
However, all of Djokovic's wins against Nadal have come in three-set matches. The Spaniard has only lost one match at Roland Garros, and that was to Robin Soderling in 2009.
Only two players have, in fact, been successful in stretching Nadal to five-sets at Roland Garros: Djokovic and John Isner and neither have succeeded in prevailing over the nine-time French Open champion.
Nadal remains the firm favourite
More recently, Nadal has been succumbing to defeats, not just to seasoned campaigners such as Djokovic but also to quite a few up and coming youngsters such as Nick Kyrgios, who handed the Spaniard a four-set loss at Wimbledon and Milos Raonic, who beat him in the quarter-finals at Indian Wells. It is indeed tempting to see these defeats to younger players as a sign of age catching up with the seemingly timeless Nadal, who turns 29 this June.
But, if there is one aspect that his campaign at the ongoing Madrid Open has shed light on, it is that Nadal has lost none of his trademark agility and athleticism, which have probably been amongst the decisive factors for his continued dominance on the surface. Moreover, his top-spin forehand remains as vicious as ever, and he is still more than capable of whipping up near impossible angles with his powerful double-fisted backhand.
However, his serve, which never was a key weapon in his arsenal, has let him down more severely this year. Against Djokovic at Monte Carlo, he dropped serve three times while against Fognini at Barcelona, despite getting 70% of his first serves in, was able to win just 58% of points on them.
All said and done, Nadal continues to be counted amongst the top contenders for not just the Roland Garros, but for all Majors, as can be easily deduced from the comments of former World Number one Boris Becker, who is currently Djokovic's coach. If one wishes to write Nadal off as a favourite at Roland Garros, it would be at his or her own peril.