Rafael Nadal: Wimbledon 2011- The journey, The expectations
751 //
02 Jul 2011, 16:28 IST
Rafael Nadal, the Spanish theatrical fist pumping muscle boy is something more than a tennis prodigy now. His incredibly unique game, his athleticism and his on-court dominance earned him comparisons with the legendary Bjorn Borg. Nadal, a baseliner is known for his aggressive game play but what sets him apart from the rest is his mental strength which has made him an embodiment of never–say-die attitude.
Nadal, born in Majorca, never went to a tennis academy and has the same coach he did when he was a kid: his Uncle Toni.  He was an equally talented football player in his youth but later had to choose one on his father's insistence. Now we all know what he chose. At the age of 15, he turned pro and defeated former Grand Slam champion Pat Cash in a clay-court exhibition match. This was just a glimpse of what was about to come. At the age of 17 he defeated Roger Federer the first time he played and became the youngest player to reach the 3rd round of Wimbledon after Boris Becker. Two years later in 2005, he won the French Open the first time he played it and kept on winning it for four consecutive years, rightfully earning him the title of " The King of Clay "
However critics soon began to brand him as a Clay-court specialist because of his inability to win on other surfaces and ending up as second best even with his best efforts. But Nadal in 2008 silenced his critics by defeating World No. 1 Roger Federer in an epic match hauled by many critics as the greatest tennis match ever played.
Wimbledon 2011
Nadal entered the Wimbledon with a not so enviable record. Throughout the year injury has played spoilsport and even threatened his Wimbledon title defense.
Nadal kicked off his title defense with a routine straight sets win over American Michael Russell. He started off a little slow but soon got the break and from thereon it was all Nadal. In his 2nd round he breezed past another American Ryan Sweeting (6-3,6-2,6-4). In his 3rd round he faced Giles Muller of Luxembourg. In a rain interrupted match Muller didn't give up easily and made Nadal earn his breaks. Occasionally Nadal struggled to handle Muller's groundstroke's and the match went for tie breaks for the 1st and 2nd set but eventually Nadal wrapped up the 3rd set as professionally as he could winning the match 7-6,7-6,6-0.
Nadal Vs Del Potro (4th round)
At the onset of the match Nadal was at his very best but soon it seemed the unthinkable could happen when Nadal required some treatment on his foot and lost the 2nd set soon after. But he soon rallied himself into the 3rd set winning it in a tie-break and eventually winning the 4th set and the match (7-6, 3-6, 7-6, 6-4) and booking the last quarterfinal spot.
Nadal vs. Mardy fish (Quarter final)
Wasn't Rafa injured in the previous match  – - was the question which was probably looming around on everyone's mind when they saw Rafa as forceful as ever displaying his athletic best and setting up a mouth watering Semi-final with Andy Murray.
Nadal Vs Andy Murray (Semi-final)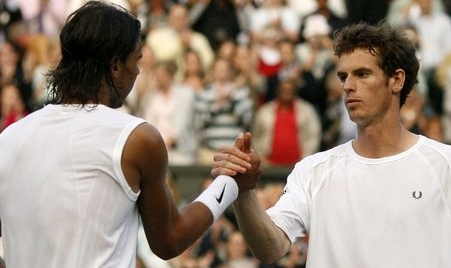 Murray was carrying the British Dream on his shoulders but it yet again proved fragile and could not bear the onslaught of the Spaniard. Though Murray got the better of Nadal in the 1st set but Nadal brilliance was too far and he made the most of Murray's unforced errors and thus rightly reserving his shot at the 2011 title.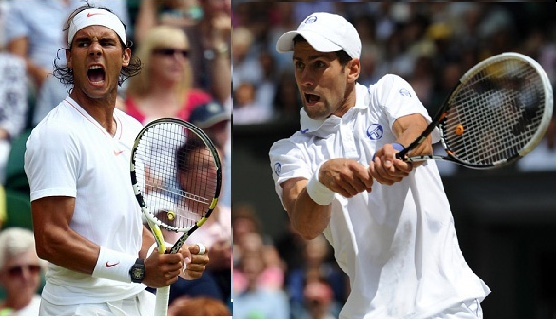 THE FINALS
The new World No. 1 will be in a face-off with the man he just replaced. What to expect – - – -
A filled centre court, whispers of who-is-going-to-win before the match. Soon the world's two best players will make it to the court in their white conservative tennis attires. Get ready for the emerging Nadal-Djokovic rivalry, Djokovic being seen as the only player as a threat to Nadal with Federer on the decline. I pray for a fit Nadal. It will be a battle of nerves. Both the players do not lack mental strength and have been at their best. Djokovic perhaps had an unbelievable first half of the year with an air of invincibility gathering around him. Nadal comes to the Wimbledon with yet another French open to his name and a 20 match unbeaten streak on grass court. They have met 27 times in the past with Nadal having a 16-11 advantage, including a 5-0 advantage at Grand Slam tournaments on Djokovic. Fireworks are guaranteed. Nadal will rely on his behind the baseline game with heavy topspin groundstrokes, speedy footwork and tenacious court coverage. His defense is one of the best amongst the present players which makes one hope that he can find the answers to Djokovic's lethal backhand. When its Nadal expect some big rallies, some high quality crosses and if all goes well for Nadal he will end up with his trademark Fist pump. The Djoker certainly won't be smiling if Nadal proceeds with his usually ruthless but professional on-court business. Beware Djoker, the Spaniard is coming!