Rushmi trounces Kyra Shroff at ITF meet
781 //
26 Sep 2012, 19:02 IST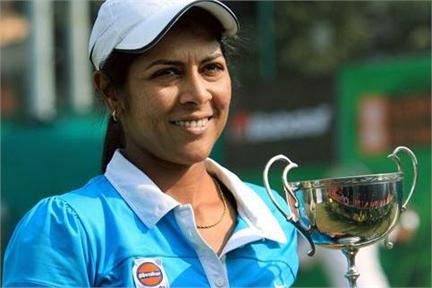 Gulbarga (Karnataka) - Former national champion Rushmi Chakravarthi turned the clock back to beat a 10-year younger but higher ranked third seed Kyra Shroff 6-3, 6-0 and enter the quarterfinals of the $10,000 ITF Gulbarga Open women's Futures tennis championship here Wednesday.
There was nothing wrong that the 1157th ranked Rushmi could do and nothing right the 531st ranked Kyra could. Rushmi set a hard pace with her power-packed forehand winners which brooked no answer from Kyra, who struggled to get going and find a rhythm.
Second seed Emily Webely Smith from Britain survived a first set tie-break against Japanese rival Kinoshita before prevailing 7-6 (4), 6-2.
Fourth seed Zi Yang of China rallied from a 2-5 in the first set to stop her Chinese Taipei's Pei Chi Lee 7-5, 6-1 while the top seed Wing Yau Venise Chan of Hong Kong defeated Sowjanya Bavisetty 6-2, 6-4 and entered the quarter-finals.
The results (2nd round): Wing Yau Venise Chan bt Sowjanya Bavisetty 6-2 ,6-4; Emily Webely Smith bt Kinoshita 7-6(4), 6-2; Oleaksendra Koreshvilli (Ukraine) BT Risa Hasegawa 6-4, 6-4; Zi Yang bt Pei Chi Lee 7-5, 6-1; Vaishnavi Peddi Reddy bt Natasha Palha 7-6(2), 3-6, 6-1; Prerana Bhambri bt Spurti Shivalingaiah 6-4, 4-6, 6-3; Nan Nan Zhang bt Jueun Kim 6-2, 6-2; Rushmi Chakravarthi bt Kyra Shroff 6-3, 6-0.