Sanam on course for another title
931 //
14 Dec 2012, 22:27 IST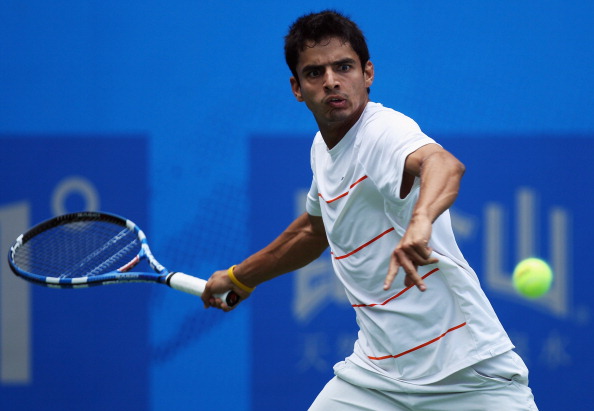 Dharwad - Tamil Nadu tennis player Ramkumar Ramanathan entered his maiden final of the ITF circuit when he stopped the mercurial German qualifier Torsten Wietsoka 7-6(3), 7-5 in their semi-final of the $10,000 ITF Dharwad Open Futures Championship at the DDTA court here Friday.
In the final, Ramkumar meets the second seed Sanam Singh, who outplayed Ranjeet Virali Murugesan 6-1, 6-0 in the other semi-final which lasted 50 minutes.
Ramkumar proved more than a match to the hard hitting Wietoska and kept his focus, chasing down every ball. He kept pace with Wietoska and pinned the German to back court with his deep groundstrokes and angled returns. The youngster kept his cool under pressure and did not get distracted by Wietoska's constant complaints about the line calls.
The first set went with serve till 6-all, though Wietoska faced breakpoints in the ninth and 11th games but managed to salvage them. In the tie-breaker, Ramkumar hit with pin-point accuracy and took a 4-1 lead bagging the tie-break 7-3.
In the second set, the two traded couple of breaks each from the fifth game onwards, till both held their serves in the 10th and 11th games which saw Ramkumar ahead at 6-5. He kept the pressure on Wietoska, who compounded his troubles with two double faults in the 12th game and dropped his serve, giving Ramkumar the tie on a platter.
"I am very happy to make my first Futures final, it was a tough match and Wietoska played well, but I made sure that I stayed consistent with my returns. The final too will be a tough one against Sanam, but I will go and give my best as I have nothing to lose," said Ramkumar.
The other semi-final was a lop sided affair, as Sanam with his strong first serve and solid returns proved just too good for former national champion Ranjeet, who held his serve only once (in the third game of the first) set in the tie. For Sanam Singh, stays on course for a second successive title on tour, following his title triumph at Davangere last week.
American combination of Amrit Narasimhan/Michael Shabaz lifted the doubles title beating Indian pair of Ajai Selvaraj/Ashwin Vijayraghavan 6-4, 3-6, 10-7.
Results (Singles semifinals):
Sanam singh bt Ranjeet Virali Murugesan 6-1, 6-0; Ramkumar Ramanathan bt Torsten Wietoska 7-6(3), 7-5.