Sanam Singh Interview: "My goal is to reach singles top 100"
877 //
08 Dec 2012, 18:13 IST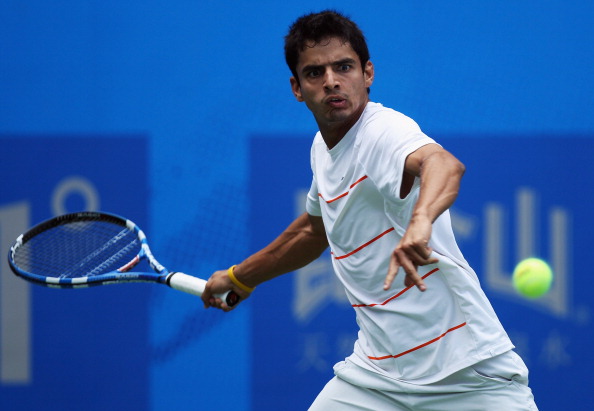 Not many had heard of Sanam Krishnan Singh until the 2010 Asian Games in Guangzhou, China. His electric performances in a gold medal-winning feat alongside Somdev Devvarman in the men's doubles however made him a force to reckon overnight.
Sanam, after returning from the University of Virginia, USA, towards the end of 2011, has been striving to break into the big league in the pro circuit, and his confidence-elevating win against the in-form Sriram Balaji in the final of the ITF Futures, Davangere today has been a stepping stone.
In an exclusive interview with Sportskeeda, the gritty youngster shared his thoughts about the final match and his career so far…
Excerpts:
Congrats on your big win. Balaji has been in a fine form lately and beating him must have been quite a happy moment for you?
Yeah. I have played Bala before and he is a very talented player. He has a big serve and on these courts that's the hardest battle. But I think I served really well today and started off really well, and held on to the momentum throughout. It was a good final to win.
You know, we were trying to get in touch with you yesterday but heard that you were at the movies and had mentioned that you wanted to keep off the press before the final. Is that how you ward off pressure before big games?
(Smiles) I try and keep the routine the same all through the week. Yesterday, I thought of going for a movie, as it would be a good idea to relax. We watched Talaash, and it was really good outing. It was good to find a nice movie place here in Davangere.
Until the Asian Games, no one really knew who 'Sanam Singh' was. You were not really a name to reckon with prior to the Asian Games, but the gold medal feat has changed things, hasn't it?
Well yeah, that was a great match. Somdev and I are really good friends but around the time of Asian Games we hadn't played together that much, and didn't quite expect to win. But I still have a long way to go before I become a name to be reckoned with in professional tennis.
A lot of young tennis players risk their ranking by going to the US. You did that too. Has it helped? And is it a wise decision to make?
It was a big life decision for me. Going to US meant playing university tennis and not figuring high in the ATP rankings. But today, I can say that it's been the best decision I have taken in my life so far. To have a degree and also pursue sports is a wise decision. My game has really improved a lot since then. I still have enough time to give pro tennis a good shot.
Can you elaborate on your stint in the National Collegiate Athletic Association (NCAA) in USA?
In the US they have a great system and being there was a great help for me. College sports in America is big, and the school that I was in was also good. It's a team environment there.
What are the upcoming matches you will be playing?
I will be playing the ITF Dharwad and Belgaum here in Karnataka. It's good that the association here is hosting so many matches.
You were getting ministry funding as part of the Olympic preparations. Are you still funded by the ministry?
Post Olympics, I haven't got funded, so I am supporting myself at the moment. I am with Mahesh Bhupathi's company but I need to get my ranking up before I start getting sponsorship.
Who do you train with at the moment?
I don't really have a coach right now. I try and play with Somdev and his trainer sometimes, and play with my university coaches back in Virginia when I go back, so that's not too bad at the moment.
There has been a steep climb in rankings for you this year. Are you happy with the progress so far? (current singles ranking is 357)
Yeah, it's obviously a good climb. But my goal is to reach below 100 in singles, so there's a long way to go.