Sanam Singh wins second consecutive ITS Futures title
641 //
04 Mar 2012, 10:51 IST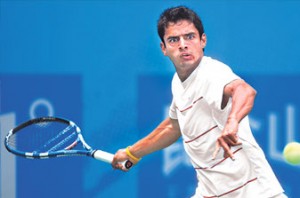 24 year old Indian Sanam Singh won his second successive ITF $10K Futures title on Saturday in Bhopal with a 6-1, 6-4 win over Japan's Shuichi Sekiguchi.
Sanam had also won the ITF title last week in Chandigarh last week and has earned 36 ATP ranking points for his efforts over the last 14 days. That would be enough to push his ranking from the current low 700s to the top 550. It will also move him from no. 14 among the Indian men on the ATP Tour to no. 7 or no. 8.
Sanam was leading 4-0 in the second set but his opponent hung on and gave a tough fight before going down in straight sets.
It was the third singles title in the ITF circuit for Sanam who had won his maiden title in 2005.