Second seed Sahil bows out
1.75K //
03 Dec 2012, 22:27 IST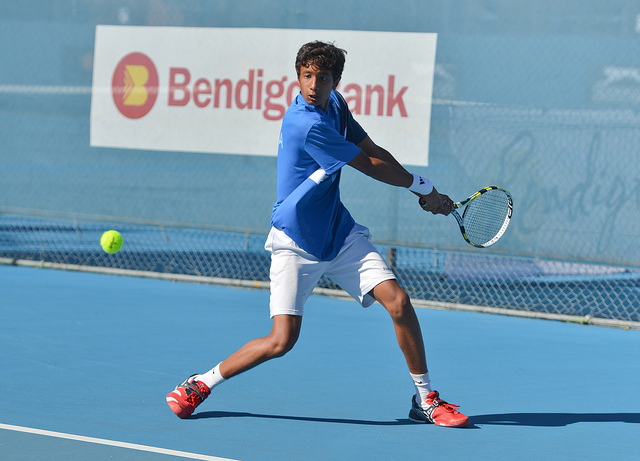 Mumbai - Second seed Sahil Deshmukh of India crashed out in the opening round of the boys' Under-18 event of the ITF-CCI Junior Boys' & Girls' Tennis Championship here Monday.
Sahil was no match for compatriot Vidit Vaghela as he lost in straight sets 2-6, 5-7 at CCI Courts, Churchgate.
However, top seed Goran Markovic of Serbia faced no problems to advance to the second round. The Serbian cruised to a facile 6-1, 6-0 win over India's Rian Pandole.
Another seed to tumble out in the boy's competition was fourth seed Ayap Sagadat of Kazakhstan, who went down to the spirited challenge from India's Garvit Batra. The Indian rallied to prevail 3-6, 7-5, 6-1.
Results:
Boys' singles (first round): Garry Tokas (Ind) beat Nishanth Rebello (Ind) 6-3, 2-6, 7-6(6); Sai Nikhil Manepalli (Ind) beat Watcharaphong Lam La-Or (Tha) 6-2, 6-4; Alexey Nesterov (Kaz) beat Lakshaman Balaji (Ind) 6-1, 6-2; Garvit Batra (Ind) beat Sagadat Ayap (Kaz) 3-6, 7-5, 6-1; Rajanvir Singh Dharni (Ind) beat Karan Lanchandani 6-0, 6-0; Dimitry Popko (Kaz) beat Indra Patwardhan (Ind) 6-1, 6-2; Abiiyev Kuatbek (Kaz) beat Anvit Bendre (Ind) 6-4, 3-1 (retired); Vijay Jude Raymond (Ind) beat Danil Mischennko (Kaz) 2-0 (retired); Chih-Chun Tang (Tpe) beat Hardip Singh Sandhu (Ind) 6-1, 6-2; Sachin Kumar (Ind) beat Chanitom Silakul (Ind) 6-2, 1-6, 6-1; Vidit Vaghela (Ind) beat Sahil Deshmukh (Ind) 6-2, 7-5, Goran Markovic (Srb) beat Rian Pandole (Ind) 6-1, 6-0.