Miami 2013 women's draw: Fun and grind
957 //
20 Mar 2013, 18:44 IST
If there's no rest for the weary, there's even less rest for tennis players. They have barely had time to wipe the sweat off their brows after their exhausting feats in the Indian Wells desert, and now they've already been shipped thousands of miles to sweat some more at the Sony Open in Miami. In much more humid weather, too. Still, none of them seems to be complaining; while some have been cavorting with dolphins, others have been pulling faces for the cameras at parties. In the meantime, the draws for the tournament have been released, almost as if to remind everyone that after the short-lived fun and frolic, there is actual tennis to be played. Here's a look at how the women's draw is likely to unfold:
First Quarter: time to prove a point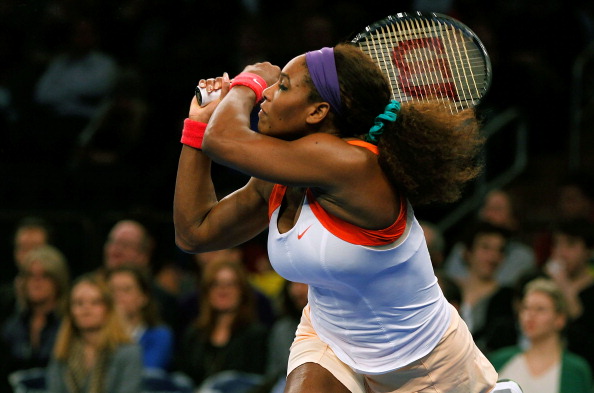 Serena Williams didn't hold the No. 1 spot at any point last year, and all anyone could talk about was how the ranking system was a complete joke. Which makes it ironic that now that she's sitting atop the pile, there are murmurs doing the rounds that she isn't actually the best player in the world at the moment. Serena failed to win either the Australian Open or the Qatar Open in Doha – two events she was overwhelmingly expected to dominate – and in the process also lost to outgoing No. 1 Victoria Azarenka for the first time in more than three years. We're just three months removed from the end of 2012, a year in which Serena was outrageously successful, and already the 'age' talk is coming up again. How thrilled do you think the fiery American must be by this development?
Serena's draw is fairly kind in Miami, a tournament she has ruled in the past. If there's any place in the world she could choose to prove a point, this would be it, specially when you consider that her last victory here came five years ago, back in 2008. She opens against Italian Flavia Pennetta, after which she will likely have to face a couple of erratic big hitters – Yanina Wickmayer and Dominika Cibulkova. On the other side of the quarter, we will get our first look at Li Na since her run to the Australian Open final. Li may have a point or two to prove too, as might her potential 4th round opponent Caroline Wozniacki – they both probably want to declare to the world that their recent high-profile runner-up performances were no flukes. But Anastasia Pavlyuchenkova, who's slated to meet Wozniacki in the 3rd round, may have something to say about all of these point-proving attempts.
Prediction: Serena def. Wozniacki
Dark horse: Anastasia Pavlyuchenkova
Second Quarter: in their defense
Agniezka Radwanska, the highest seed here, is also the defending champion, but you wouldn't know that from any of the pre-tournament talk. The diminutive Pole has taken the word 'unobtrusive' to a whole new level with her on-court and off-court demeanor; unfortunately, her results this year have been largely unobtrusive too. You get the feeling that she almost needs to defend her crown here to affirm that she's the real deal; that she is the woman most likely to challenge the Big 3 at the Slams. Standing in her way is a long line of imposing shot-makers – she starts with the seemingly innocuous but always tricky Su-Wei Hsieh, and then will likely have to face Mona Barthel, Venus Williams or Sloane Stephens, and finally, Petra Kvitova. Kvitova's asthma can easily flare up in the heat and humidity of Miami, but she did post a career-best quarterfinal appearance in Indian Wells last week, so it's possible that she has found a way to work around the problem. Also here: perennially-injured Andrea Petkovic, who has already defeated Bojana Jovanovski and is slated to meet Marion Bartoli next.
And no, you're not the only one excited by that potential Venus-Stephens third-rounder.
Prediction: Radwanksa def. Bartoli
Dark horse: Mona Barthel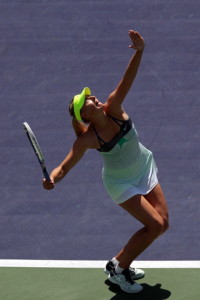 Third Quarter: Trudging onward
Maria Sharapova won her first hardcourt title since 2011 last week in the desert, and her serve and movement are looking like serious threats after a long time. But the Russian has never won in Miami, and doesn't seem as comfortable here as she does elsewhere in North America – last year she put up a dispiriting finals performance against Radwanska in a match that she was widely expected to dominate, and a year before that she went down tamely to her now-nemesis Victoria Azarenka. There is the element of fatigue too: the almost non-existent turnaround time between Indian Wells and Miami has got to be hardest on the Indian Wells finalists. That said, the names surrounding Sharapova don't look particularly ominous; she will likely face Maria Kirilenko in the 4th round and Sara Errani in the quarters, two players she defeated on her way to the Indian Wells title. Errani, meanwhile, might have to deal with a potential 4th-rounder against Ana Ivanovic, who seems stuck in that weird nondescript space between journeywoman and contender. The most intriguing match in this quarter, however, has nothing to do with either contenders or journeywomen – Yulia Putintseva and Donna Vekic, two of the most promising youngsters on tour, aged 18 and 16 respectively, face off in the first round. If you are even remotely interested in the future of women's tennis, that match has 'must-watch' written all over it.
Prediction: Sharapova def. Errani
Dark horse: Take your pick between Sabine Lisicki and Svetlana Kuznetsova, who are both lurking in Errani's section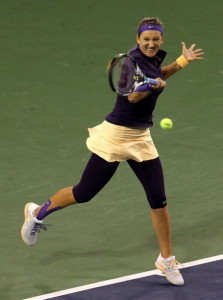 Fourth Quarter: The wounded, in body and spirit
Victoria Azarenka's participation in Miami has been the subject of much discussion. The Belarussian withdrew from her Indian Wells quarterfinal because of an ankle injury, and there have been rumors ever since about her pulling out of Miami too. For now, though, Azarenka seems ready and willing to make some noise in the tournament, and it's anyone's guess how long her ankle will hold up. The second-highest seed here, Angelique Kerber, is probably still smarting from her celestial loss in the Indian Wells semifinal. The German must be itching to make amends for that performance; too bad she's placed light years away from Wozniacki in the draw. Laura Robson, meanwhile, is looking to arrest her downward slide after doing so well at the Australian Open, while American upstarts Christina McHale and Jamie Hampton will try to hog the home crowd limelight by ending each other's run in the 3rd round. The player with the most upside in this quarter, however, has to be Madison Keys, who will probably get a shot at a hobbling Azarenka in the 3rd round.
Prediction: Kerber def. Azarenka
Dark horse: Madison Keys
Semifinals
Serena def. Radwanska; Sharapova def. Kerber
Final
Serena def. Sharapova