Simon reaches 1st Paris Masters semi-final
620 //
02 Nov 2012, 22:26 IST
PARIS - Gilles Simon thrilled home fans by reaching the semi-finals of the Paris Masters on Friday as he beat Czech fifth seed Tomas Berdych 6-4, 6-4.
The victory in just under two hours was the first of a possible three as a record number of Frenchman played in quarter-finals of the indoor event at the Bercy arena,
In later matches, former champion Jo-Wilfried Tsonga was playing Spanish fourth seed David Ferrer while veteran Michael Llodra was taking on American Sam Querrey.
Simon will attempt on Saturday to end the dream run of lanky Polish qualifier Jerzy Janowicz, who reached the final four as eighth seed Janko Tipsarevic quit with illness after being seen on court by the doctor, 3-6, 6-1, 4-1.
The victory was the second surprise in as many days for Janowicz, ranked 69th, who stunned Andy Murray a day earlier.
The first Polish player to play a Masters 1000 quarter-final is now the first into the semis at the elite level after Tipsarevic threw in the towel after one and three-quarter hours.
The Serb was the last man to qualify for the season final in London which begins on Monday. Janowicz fired a modest nine aces, produced 33 winners and broke Tipsarevic four times.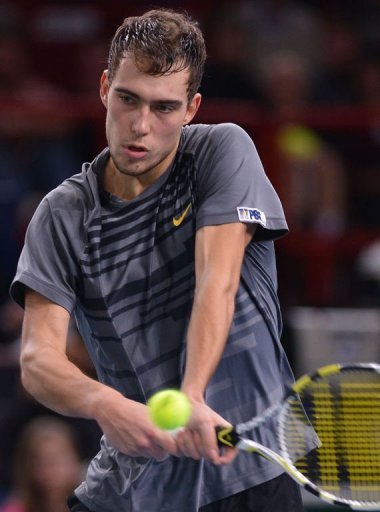 "I really want to play 100 per cent and do everything I need to win the match," said Simon of his next challenge. "If I win, it's going to be fabulous, but if I lose, it's going to be easier to accept."
Simon has been making his own luck all week after starting out by beating former Australian Open finalist Marcos Baghdatis and then putting out lucky loser Victor Hanescu, who replaced absent top seed Roger Federer in the draw.
Simon had a free pass into the quarters as Japan's Kei Nishikori pulled out before their third-round match with an ankle injury.
Berdych will now head to London to take his place at the World Tour Finals.
Simon, ranked 20th and Bangkok finalist in September, needed four set points and almost an hour to win the opener against Berdych. He then recovered from a break down in the second to notch the popular victory.
He said he was satisfied with his performance and was happy to play well at a tournament that he loves in front of a home crowd, including his young son.
"I grew up not far from here (Fontenay-sous-Bois, just east of Paris). It's the tournament that I watched when I was young. I've always wanted to do well. Up until not it's always not gone badly. It feels good to finally do well…
"I had good feelings today, I made very few unforced errors. I was very consistent during the whole match."
"I hope I'll go even further," he added.
Berdych was been on a roll, winning 22 of his last 26 matches at the Masters event which he won in 2005. He has now lost to Simon in five of seven matches.
"He was just too good today, he made no mistakes at all," said Berdych. "I lost to a better player today, he played well and deserved to win."