Sony Ericsson Open: Focus on comebacks and retirement
851 //
23 Mar 2012, 15:39 IST
If last fortnight's BNP Paribas Open at Indian Wells had painted a glum and insipid picture of a truncated draw triggered by the Coachella virus, Sony Ericsson Open is here to paint a healthy, happy and radiant picture. Leaving behind the blustery conditions and the scores of retirements, let us welcome the sun-kissed beaches and the sunbathed tennis courts of Miami, Florida.
Dubbed unofficially as the 'Fifth Grand Slam of the Year', this prestigious event played at Crandon Park in Key Biscayne is one that players and fans look forward to with a lot of enthusiasm. But for once on the opening three days tennis took a backstage as more emotional stories became the cynosure.
The Comebacks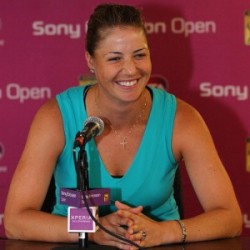 Alisa Kleybanova – Here is one humane story that will surely inspire many others. Courage, determination and self-belief – the 22 year old Russian girl showed she had it all as she fought a battle not on the tennis court but on a hospital bed. For seven months the former World No. 20 fought against Hodgkin's Lymphoma and now after a ten month absence from the Tour she is happy and healthy once again.
A wildcard entry into the main draw at Miami, Kleybanova showed what a gutsy fighter she is! Facing the current No. 64 Johanna Larsson she was rusty initially en route to dropping the first set 2-6. Her ranking had plummeted to 167 but the tenacious Russian refused to give in. Eventually she broke in both the second and third sets and seized victory with the final scoreline 2-6, 6-3, 6-2.
Being able to play again competitively was a distant dream once and Alisa made the dream come true. She summed it the best in her own words, "For everyone else it's just the first round, but for me it's very emotional. I'll always remember it – it will always be the first match of my comeback."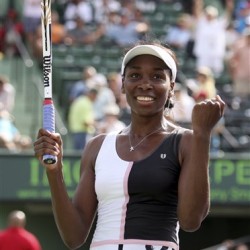 Venus Williams – She is a veteran and there is no dearth of how feisty a fighter she is. But Venus's recent fight had been off-court against a very unfamiliar opponent, Sjogren's Syndrome. During last year's US Open ahead of her second round match against Sabine Lisicki, she was diagnosed with this auto-immune disease which saps energy and causes joint pain and inflammation. Venus was compelled to pull out of the final Slam to focus on her recovery.
On the sidelines for seven months, the currently 134 ranked American had played just one match in between – the doubles rubber in Fed Cup with Liezel Huber which they won. She didn't want to rush hastily back to the court resulting in her withdrawal from the Australian Open. And on Wednesday the 31 year old showed that her decision was absolutely right. Venus Williams regaled the audience with her spectacular power display and attacking tennis, wiping out fellow veteran, the Japanese Kimiko Date-Krumm 6-0, 6-3 in a match that was a pale shadow of the epic they played at Wimbledon last year.
And very much like Kleybanova, Venus revealed how comforting it was to know that she can compete once again – ''I know how to play, so I haven't lost any steam in that, the fact that I can play tennis. That's comforting for me."
The Returns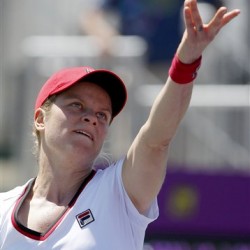 Kim Clijsters – Plagued by different injuries, the last one year had been quite forgettable for the former Belgian World No. 1 but Kim Clijsters's fighting spirit has never been doubted. After an injury-induced layoff, Clijsters returned to Australia as the defending champion this year and looked close to her top form once again reaching as far as the semis.
Given this will be her last competitive year on the Tour the more we get to see the effervescent mom, the better it is. And playing her first round at the Sony Ericsson Open, the two-time Miami champion ensured we do just that.
An ankle injury kept her out of action since Melbourne and the rust was visible when she lost the first set but the 37th ranked player stormed back beating Jarmila Gajdosova 4-6, 6-1, 6-0. Later she shared the good news that her ankle has healed 95%.
.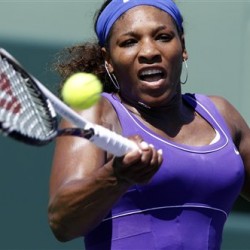 Serena Williams – One of the most prolific and dangerous players on the Tour, Serena Williams has not played at her home tournament for the past three years.
In front of her home crowd, Serena is simply fearless as evidenced by her five Miami titles which put her alongside the legendary Steffi Graf.
She last played a competitive match at the Australian Open when she bowed out in a shock defeat to Ekaterina Makarova in the fourth round. Serena will be eager to overturn that as she returned to competition after a two month hiatus and will be hungry to add title number 6 at Key Biscayne.
Post Australian Open Serena's matches were limited to only two as she helped her Fed Cup team secure victory in the World Group II tie. But on Thursday the 11th ranked Serena brushed aside lack of match play and breezed past Zhang Shuai 6-2, 6-3 slamming 6 aces.
The Retirement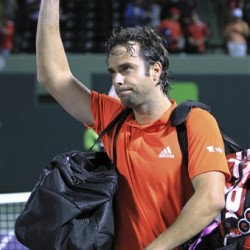 Fernando Gonzalez – He is called 'The La Reina Bomber', he is called 'Gonzo'. He has the distinction of being the fourth male tennis player in history to have captured each of the Olympic medals which included a gold in doubles and a bronze in singles in Athens and a silver in Beijing. He reached the Australian Open final in 2007 which catapulted him to World no. 5. He won 11 career titles and had wins over Pete Sampras, Andre Agassi, Roger Federer, Rafael Nadal, Novak Djokovic, Marat Safin among many others.
Fernando Gonzalez has had an illustrious tennis résumé and had been arguably one of the best players from Chile to have ever held a racquet. Possessing a deadly forehand which was termed 'scary' by many of his peers, the 31 year old Gonzalez took the court on Wednesday night and it was the last time that he ever played an ATP match.
In a captivating match against Nicolas Mahut, Gonzo bid farewell to tennis as he lost 5-7, 6-4, 6-7 (3). The Chilean fought fiercely but it was not enough as the Frenchman brought curtains down on his 13 year professional career. Applauded thunderously, he was feted with a commemorative frame by the ATP President Brad Drewett and was presented with a special video with a tribute from Federer, Nadal, Djokovic, Murray, Nalbandian and the Bryan Brothers.
Here's wishing Alisa and Venus a healthy life, Kim and Serena a great year and Fernando a joyful life after retirement.